Two main pressure measurements are used for car tyres – BAR and PSI. You can use our converter to quickly change from one to another.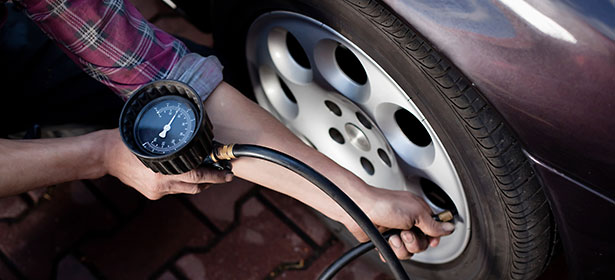 Keeping your tyre pressure where it's supposed to be can cut down on your fuel bills and make your car safer to drive.
It's important that your tyre is making the correct amount of contact with the road – over or under-inflated tyres mean less grip on the tarmac. Check your car manual to find the correct tyre pressure, and use our convertor tool if the measurements don't match the pump. Thinking of upgrading your car? We only recommend cars that are reliable, economical, comfortable and safe to drive – here are the best new and used cars you can buy today. If you've just bought a car that needs a little bit of work or you want to spruce up your current car before selling it on – see our full list of the best car scratch removers.
BAR to PSI conversion table
1.30 BAR to 1.80 BAR
BAR                                      PSI
1.30                                         17
1.35                                         18
1.40                                         19
1.45                                         20
1.50                                         21
1.55                                         22
1.60                                        23
1.70                                         24
1.75                                         25
1.80                                        26
1.90 BAR to 2.50 BAR
BAR                                      PSI
1.90                                       27
1.95                                       28
2.0                                         29
2.10                                        30
2.15                                         31
2.20                                        32
2.25                                        33
2.30                                        34
2.40                                        35
2.50                                        36
2.60 BAR to 3.20 BAR
BAR                                 PSI
2.60                                  37
2.65                                   38
2.70                                   39
2.75                                   40
2.80                                  41
2.90                                  42
3.0                                    43
3.05                                  44
3.10                                   45
3.20                                  46
3.25 BAR to 3.90 BAR
BAR                                  PSI
3.25                                   47
3.30                                   48
3.40                                    49
3.50                                    50
3.55                                     51
3.60                                     52
3.70                                     53
3.75                                      54
3.80                                      55
3.90                                      56