This guide explains how to plan and buy a bathroom suite, including baths, toilets and sinks, all at the right price.
Best places to buy bathroom suites
In 2021, we asked 6,732 bathroom owners how satisfied they were with their experience of buying their bathroom, and what they thought of the bathroom itself.
The top retailer scored 84% while that at the bottom propped up the table with just 64%. As for bathrooms themselves, the highest-scoring brand scored an even more impressive 87% – the lowest just 65%. 87% The customer score of the top-rated bathroom To show you the range of options available, we've put together a picture gallery with a selection of bathrooms from the companies we've reviewed.
It includes modern and traditional designs and a mix of top, mid and lower-priced bathrooms. Find out how each bathroom company was rated by its customers and whether it offers good value for money in our reviews of the Best and worst bathroom brands.
Bathroom brands
Bathroom planning Making the most of available space in your bathroom is key. Take measurements before heading out to showrooms – you don't want to fall in love with a suite only to discover down the line that it just won't fit.
When you measure, note down the location of existing waste pipes, boiler and electrical wiring. Relocating any of these will add a significant chunk to your costs. On graph paper, make a scale drawing of your bathroom, including the location of the windows, door and fittings.
You'll also need to think about ventilation; if there isn't a window, installing an extractor fan will help prevent mould and damp problems.
If you can, talk to a bathroom specialist who can help you design a practical space. Tell them your budget and, ideally, try to find a company that can show you 3D images of what the bathroom will look like.
Some companies also offer online bathroom planners you can access from home, which is useful if you want to play around with designs before speaking to anyone, or if you are unable to travel to the nearest showroom.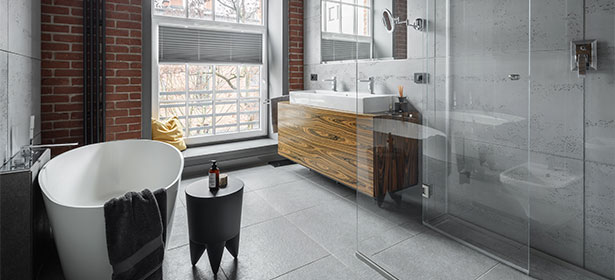 Bathroom suite sales
A sale can be a good way to shave hundreds of pounds off your bathroom, especially if you get a great deal on an entire bathroom suite.
However, make sure you don't get sucked in by seemingly unamicable headline prices or soon-to-end deals – you might not save as much as you think. Some companies aren't always clear about when their promotions were going to end. A number of the companies we looked at had at least one promotion running a lot – or even all – of the time. Some retailers may also confuse shoppers with mix-and-match offers.
Don't feel pressured to buy if you're not sure:
take your time to make the right decision for you.
Make sure that you check the small print: when exactly will the offer end and what items the deadline actually apply to?
If you can't find the information, speak to a salesperson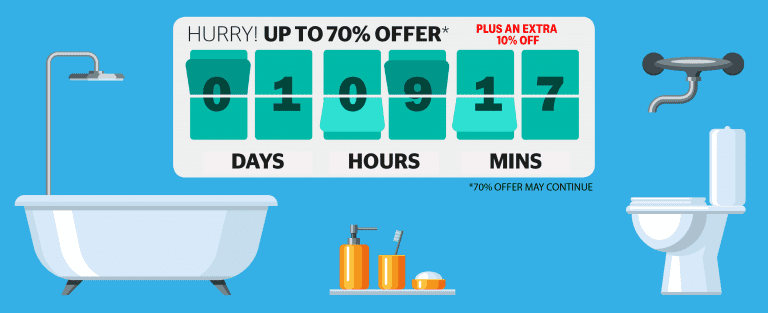 Buying baths, showers, sinks and toilets As well as asking people how satisfied they are with their bathroom and the company they bought it from, we also asked them to rate the different fittings individually.
Read on for our advice on choosing different bathroom fixtures, or visit our reviews of bathroom fixtures and fittings to discover how our survey respondents rated different brands' baths, sinks, shower enclosures, toilets and taps for quality and durability.
Choosing a shower and shower enclosure
Shower enclosures come in numerous shape and sizes, or you could choose to go for a stand-alone shower screen for a wet-room look.
Choosing a shower and shower enclosure Shower enclosures come in numerous shape and sizes, or you could choose to go for a stand-alone shower screen for a wet-room look.
Shower enclosure types
Think about the space you have and shape that would work best. There are four common types:
Square shower enclosure – these are ideal for fitting into a corner.
Rectangular shower enclosure – great for larger spaces as they can be longer.
Quadrant shower enclosures – a triangular-shaped shower that fits into a corner. You can also get an offset quadrant shower enclosures, which is slight longer.
D-shaped shower enclosure – similar to quadrant enclosures, but with just one flat side that sits against the middle of a wall rather than a corner. Most shower screens and trays come in set sizes. You can get bespoke ones made, but will cost more.   Consider how much room you will need inside the shower – you don't want to end up banging your elbows every time you wash. Don't go too big and make the rest of your bathroom feel cramped. We'd suggest marking out the space to see how it will feel. Think about its position, too. Will it go into a corner, is there a designated space or walls it can go into, or would you like to have it in the middle of a wall with three sides, making a feature of it?
Shower screens
The type of doors you have will impact the position too. Sliding doors are great for saving space, while hinged/pivot and bi-fold doors will need enough room to accommodate them. Don't forget about the thickness of the glass. This ranges from around 4mm (curved screens tend to be thinner) to 10mm. The thicker it is the more durable it's likely to be. Toughened safety glass is a particularly good choice if you have small children or a walk-in shower. You can also get glass with a special coating to help reduce build-up from soap. Frameless glass will give you a sleek finish but can be more liable to chip, so not a great choice for a family bathroom.
Showers
You'll also have to choose the type of shower you want – electric, power, mixer or digital – and the shower head. To learn more about the different types of showers, explore our guide to the best showers. We've reviewed and tested shower brands and electric showers. Check our showers brand guide to discover which brands have the most satisfied customers and view our Best Buy electric showers.
Choosing a bathroom sink
Bathroom sinks come in a vast array of shapes, sizes and designs, including:
Freestanding sinks with a full pedestal Sinks that are fitted into a cupboard or storage unit, usually called vanity units 'Vessel' or counter-top sinks sit on top of a counter – this could be an open stand with shelving, a floating top or a cupboard, specially made or converted from other storage Wall-hung sinks that don't have a base, but you can choose ones with half a pedestal Most sinks are ceramic, but you can get ones in stone, marble and even treated wood.
Consider your sink's height and position – you don't want to have to stoop down to it, for example, or for it to be somewhere that's awkward to access. Don't just be swayed by the look. Think about how easy it will be to clean, particularly if you live in a hard water area.
If you have a smaller bathroom, steer clear of wide or deep sinks that take up a lot of room. You can also get corner sinks that make the most of awkward shapes in your bathroom. Wall-hung (or 'floating') sinks are often set into a wall or a unit, saving space.
A vanity unit could also be a good option as it means incorporating the sink into a cupboard.
Remember that the taps you choose will have as big an effect on the look as the sink itself – statement taps can be an affordable way to make a feature of an otherwise basic sink.
Head to our page on small bathroom ideas for more tips on making the most of a small space.
Double bathroom sinks
Double sinks come as one unit where the two bowls are part of the same mould (as in the image above), or you can get two separate sinks. The latter are usually counter-top sinks, mounted on a unit. You could also consider an extra-wide, trough-style sink with additional taps for two people can use.
Choosing a bath
Freestanding baths come in a variety of designs, from traditional claw-footed, roll-top tubs to minimalist, modern styles.  Fitted baths tend to be more practical if you have less space and are usually cheaper than freestanding baths. If possible, it's a good idea to get into the bath you like and try it out in the showroom before making your decision. You may feel silly but you'd feel sillier if you spent hundreds of pounds on a bath you're uncomfortable in. Shop around so you end up with the highest-quality bath you can afford. If space is at a premium, you may choose to ditch a bath entirely in favour of a large shower unit.
Choosing a toilet
It may not be the most glamorous aspect of designing your bathroom but, over the years, your toilet will get a lot of use, so it's important to buy the right one. Here are the most common types.
Close-coupled toilet

Closed coupled is the most common type of toilet. It's essentially where the cistern and toilet bowl are together in one unit – as opposed to traditional-style toilets where the cistern is sat high above. They come in a huge range of styles, from sleek, modern designs to more traditional shapes.
Back-to-wall toilet
A back-to-wall toilet offers a more modern look as the workings of the toilet are set into the wall. Check whether the cistern is included in the price or sold separately.
Bathroom vanity units with a toilet
Toilets incorporated into a vanity unit are essentially back-to-wall units that allow you to hide the workings of the toilet but still give you an additional work surface for storage.
Bathroom sink and toilet unit
Some bathroom furniture incorporates both a sink and toilet cistern in one tidy-looking unit. Visit our pages on bathroom furniture to find out about storage units, including for sinks and toilets.
Toilet seats and flushes
Check whether your toilet comes with a seat when buying it, as not all do. You can buy soft-close loo seats that won't slam down when you close the lid.  Toilets can come with a dual flush, power flush or gravity flush to name but a few, and this will affect your water use, as well as how powerful and effective the flush is.
Choosing bathroom taps
You'll need taps for your sink and bath, if you're going to have one. Taps can make a big difference to the look of your bathroom as well as making it more user-friendly.
Types of bathroom taps
Your first choice will be whether to go for separate taps for hot and cold water – called pillar taps – or a mixer tap that delivers both together. There are two main types of mixer taps: an individual tap that has just one handle and automatically mixes the hot and cold water, and double handled taps that allow you to choose the amount of hot or cold water you run.  Other types of bathroom tap to think about include:
Wall-mounted taps – where as opposed to sitting on your basin or bath, they are mounted on the wall. Freestanding tap – these reside on the floor or countertop, adding a sense of grandeur or drama.
Waterfall bathroom tap – where the water flows over the top of the spout, for a contemporary look. Your tap choice might be determined by the basin or bath you choose as some come with pre-drilled holes for the taps, so think about this when buying.  Also, check what your house's water pressure is like as not all taps will work with all systems, particularly low pressure (0.5 – 1 bar) ones.
Think about how high the tap sits on the basin to ensure it's not too cramped when washing your hands. Lastly, look for taps with ceramic disks instead of plastic washers – this newer technology tends to be more reliable.
Black bathroom taps
Most taps are chrome-coated solid brass, but you don't have to follow the crowd. Opting for a black tap can be a simple way to add a statement to your bathroom.  They are matt and come in all types and sizes, so the choice is endless. You could also consider other colours or finishes, such as copper or rose gold for a decedent look.