Our secret inspectors checked-in to some fantastic seaside stays, as well as a nightmare property that wasn't even rated one star.
We've found some of Britain's best and worst places to stay for sun, sea and sand, based on our anonymous inspections. Read on to find the charming coastal resorts that are worth every penny, and the shabby seaside hotels to avoid. Which? Travel sends undercover inspectors to hundreds of hotels every year, rating them on a range of criteria to find those that offer the best service and facilities at the best price.
Royal Albion Hotel, Brighton
This Grade II listed building may occupy a prime seafront location in Brighton, but it's one of the worst hotels we've ever inspected. Read the full Royal Albion Hotel, Brighton review to find out why.
Bodysgallen Hall Hotel, Conwy

This luxury hotel and spa sits in a secluded setting two miles south of Llandudno, with views to Conwy Castle. It's a grand, Grade I listed National Trust-owned property, but does the country-house hospitality meet our expectations at this price?
Cary Arms, Devon
In the sheltered haven of Babbacombe Bay, this inn and spa with rooms, suites and cottages has fabulous sea views and bags of nautical style. Read the full Cary Arms, Devon review to find out if our inspectors thought it was worth the high price.
Midland Hotel, Lancashire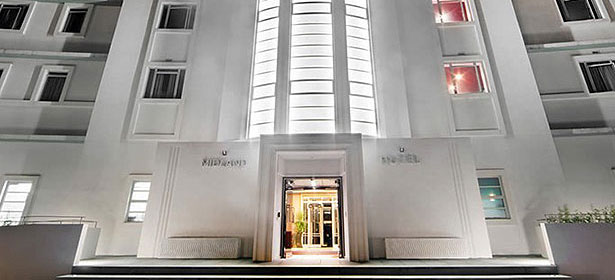 The Midland is a modernist masterpiece, directly overlooking Morecambe Bay. But has the recent refurb restored it to its heyday?
The Pig on the Beach, Dorset
This fairytale manor house occupies a prime position on the cliffs, along Dorset's Jurassic Coast. The views are jaw-dropping, but so are the prices. Read the full The Pig on the Beach, Dorset review to find how our inspectors rated it for value for money.
2 Quail, Scottish Highlands
This friendly B&B in the Scottish highlands, just 10 minutes' walk from Dornoch beach, is renowned for its excellent home-cooked breakfasts. Read the full 2 Quail, Scottish Highlands review to find out if the rooms and service impressed our anonymous inspectors on their visit
Roch Castle, Pembrokeshire
It's not often you get to stay in a real, 12th-century castle, and this one ticks all the boxes, with stunning sea views and vaulted ceilings. But how well did the reality match up to the high expectations of our anonymous inspectors?
Romney Bay House, Kent
St Brides Spa Hotel, Pembrokeshire
This marine spa with fabulous clifftop views of the ever-changing bay certainly makes the most of its location, but does a Pembrokeshire coastal break at St Brides offer good value for money?
The Victoria Inn, Norfolk
The Victoria Inn is the closest you can stay to north Norfolk's – and possibly the UK's – finest beach, with its vast sands and soaring skies. But does this pub with rooms, built in the 1830s, live up to its excellent location? Read the full The Victoria Inn, Norfolk review to find out.
How we test
Unlike all other national UK travel magazines and newspaper travel sections, we never accepts freebies. All our hotel inspections take place anonymously.
We book a standard double room online, just as you would, and we sample the hotel's facilities, just as you would. That means no special treatment, no reviewer upgrades and no opportunity for the hotel to influence our verdict. And no matter how badly the hotel fares, we will always publish the review, warts and all.
Off-peak prices are based on January rates, peak prices on August rates. Where there's a range, it's the difference between a midweek room and a weekend room.
Our ratings
We rate hotels on a range of criteria including location, bed comfort, food and drink, cleanliness, and value for money. We also produce an overall star rating for the hotel based on what we think you should expect for the type of accommodation (B&B, luxury hotel etc) and price.
All our ratings strictly adhere to the following criteria: 0 stars – A dreadful hotel. We would not recommend staying here.
1 star – A sub-standard hotel we think is well below average in its category.
2 stars – An adequate hotel we think has room for improvement.
3 stars – A solid hotel that meets our expectations.
4 stars – An excellent hotel we think is above average in its category.
5 stars – An exceptional hotel we think is among the best of its type.