Best Buy compact cameras are a step-up from your smartphone. They let you take high-resolution photos with more settings and greater control than your phone, plus they're easier to use than a pricey high-end DSLR or mirrorless camera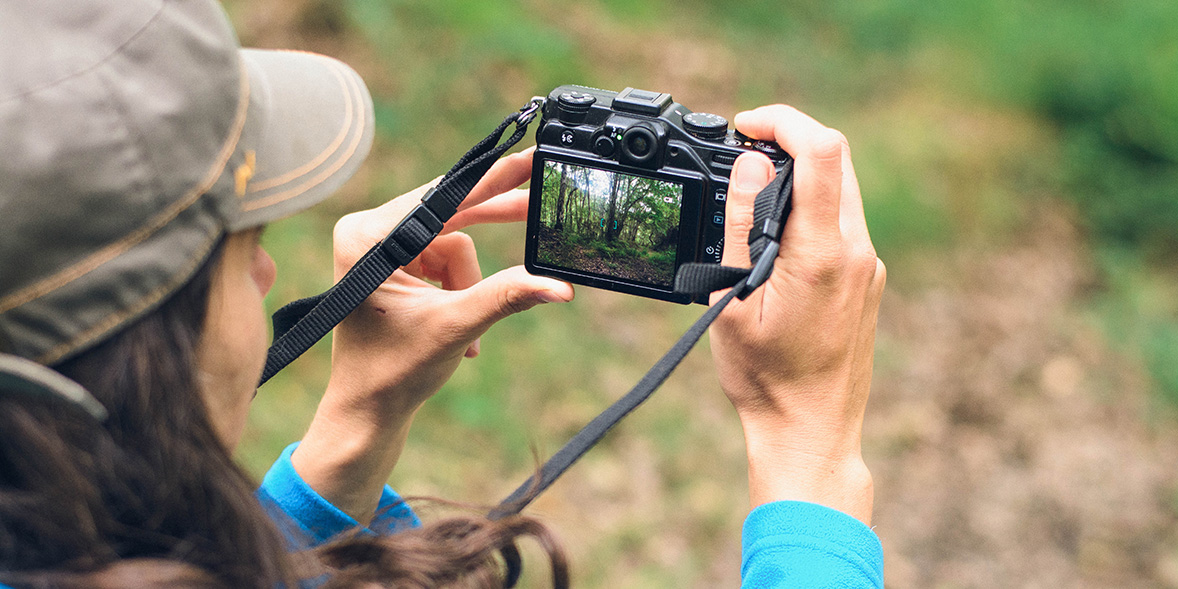 Compact cameras, sometimes called point-and-shoots, provide the quality you expect from a digital camera without any of the bulk of a high-end DSLR or mirrorless model. Plus they are usually much cheaper.  The best compact cameras give you control of your shot while packing in hardware that helps to deliver crystal clear stills and video – without compromising on good handling and lightness. Some even come with features you'd expect among DSLR and mirrorless high-ends, like 4K video and image stabilisation.  We've shared the features and the hallmarks of quality to look out for if you're on the hunt for a compact camera, whether you're looking for a holiday camera or something that can give you professional-level photos. And tell you how much you can expect to pay for a good one.
Should I buy a compact camera?
Whether a compact, rather than a bridge, DSLR or mirrorless, camera is the right choice for you will depend on what you need from your camera.
Compact cameras: pros
They're the lightest dedicated camera you can buy, excluding GoPros and wearable camera tech Compact cameras are designed with ease of use as a priority, making them great for inexperienced users or those who want to stick to automatic settings. These cameras are small – they and easily fit into your hand and pocket They're the only camera type that comes in tough, rugged or waterproof varieties. If you need a camera for extreme weather or underwater shooting, you'll want to buy one of these.
Compact cameras: cons
You can't change their lenses. This harms their versatility and prevents you from getting specialist lenses such as macro and telephoto ones.  Since phone cameras became very good – which they are at the high-end – the purpose of compact cameras has come under question. If you want genuine portability, a phone is superior, and yet if you want customisation and quality, a DSLR or mirrorless is a better bet. Mirrorless cameras have become the dominant camera type over the last decade, meaning interchangeable lens cameras are lighter than ever and compact cameras have lost some of this advantage.
How much do I need to pay for a good compact camera?
Compact cameras range from £100 to over £1,000 – though most are priced at around the £400 to £500 mark. It's best not to think of compact cameras as cheaper than any other digital camera – we actually find that mid-range compact cameras cost around the same as a budget DSLR or mirrorless model.  Good compact cameras can come cheap. Some models have had their market price devalued because they're old, but they were good at release and they're still good now. Others manage to squeeze cheaper hardware for surprising results. And the opposite is true too: expensive cameras can disappoint, struggling to achieve results comparable to budget compacts despite the higher cost. Budget DSLR/mirrorless cameras can give you better image quality than compacts of the same price – or even a little more. Even the cheapest DSLR/mirrorless cameras use APS-C and Micro Four Thirds sensor formats that are only found in pricey compacts.  If image quality is your only priority when it comes to buying a camera, you'll get more of your money's worth by shopping for a camera built just for that purpose. A compact camera offers its advantages elsewhere, such as in transportability and ease of use.
Budget cameras: under £250
At this price point, we've tested some of the worst cameras we've seen – including a few dreaded Don't Buys. So make sure you check our reviews before you buy – particularly as we've also tested some cameras that pull off a decent performance. You'll be dispensing with some features at this price. Sensors will be smaller, usually less than 1-Inch, video resolution will often be capped at lower resolutions, and you'll lack autofocus, face detection and image stabilisation tech that makes automatic shooting easier. The best compact cameras at this price are usually older models that have become cheaper over time – but they can have good zoom ranges, effective autofocus systems, and sometimes they even have features that you'd expect in more expensive cameras, like 4K video. If you can nab a bargain, you'll get a mid-range camera that's just been on the market for a long time.  If you want to save costs, you might be better off relying on your phone for your photography needs rather than buying a standalone camera. If this appeals to you, take a look at our best smartphone cameras.
Mid-range cameras: £250 – £600
This is the starting point for a compact camera shopper – there's a lot of choice, including Best Buy compact cameras, but they're not so expensive that you're wondering if you'd be better off with a good DSLR or mirrorless model.  We do have Best Buy cameras in this range. But a great many more are slightly lower scoring but still good – usually struggling in low-light and being edged out in photo and video quality, but still providing a performance that goes beyond a phone's capabilities.
High-end compact cameras: £600 plus
We have Best Buy compact cameras in this price bracket that cost as much as bridge, DSLR, or mirrorless cameras. They're not for casual users, but for buyers who want top-of-the-range quality while keeping their cameras as light as possible. The most expensive compact cameras, around the £1,000 mark, can come with APS-C sensors which are common in DSLR and mirrorless cameras. This is the key factor that makes their image quality so good because this sensor format is larger and can take in more light. Really difficult shooting scenarios, like low-light photo, video, and fast-moving subjects, are better dealt with by high-end compact cameras. They'll give you a performance that competes with DSLR/mirrorless cameras, maybe even exceeding some of the in image quality.
Compact camera features to look out for
Sensor size. Compact cameras can have sensors as big as APS-C formats, which are one of the largest sensor you can buy commercially (beaten only by Full-Frame sensors that are in incredibly expensive DSLR or mirrorless models). One-inch sensors are often used in compact cameras – big enough to deliver high quality, though more likely to struggle in low-light settings. Less than 1-Inch, like 2/3-Inch or 1/2.5-Inch sensors are used in cheaper models, with a corresponding drop in quality.
Waterproof sealing. Cameras that are rated for underwater use won't give up the ghost when you take them for a swim. Likewise, cameras that are dustproof can survive a workshop, and ones that are shockproof can withstand a drop from some distance. You'll need a waterproof or action camera for features like these – put any normal camera under this strain and they'll break.
Zoom ranges. You can't detach a compact camera's lens, so you should look at the focal length of the zoom to see what you'll be stuck with. The optical zoom will represent two values: the shortest focal length it can use for wide-angle shots, and the maximum amount it can zoom in by.
Zoom lens. This is any lens that can switch between the zoom range lengths.
4K video. Compact cameras are sometimes capable of Ultra-HD video now – just be aware that, based on our expert tests, 4K video isn't a guarantee of amazing quality. Your camera might take 4K video and use four-times the information to make its footage, but the sensor can still take grainy, inaccurate footage for other reasons.
Viewfinders. Many compact cameras don't have viewfinders for image previewing. Instead, you have to use the LCD monitor, which is a little more awkward and can impact your reaction time. When a camera lacks a viewfinder, make sure the monitor is high quality.
Wi-fi and Bluetooth. We expect cameras to be able to share information to phones, tablets and computers wirelessly, and most do now. But double-check, particularly if you're buying second-hand, as otherwise you'll be stuck with wires and figuring out if you have the right ports for a data transfer.
Compact camera brands: what you need to know
Canon's PowerShot series make up most of its compact cameras offering. They run the range from cheap to eye-wateringly expensive. Older models are usually available so you can pick the price point you prefer and buy the corresponding camera. Canon also releases novelty builds like the ivy REC and Powershot ZOOM – these are cheap cameras that offer a unique experience with very low specs. These novelty builds are designed for adventurers primarily, though they shouldn't be your first choice if you need a new camera.
Fujifilm don't offer much in this area apart from the X100V. which is possibly the most premium compact camera you can buy. In fact, it's pretty much a Fujifilm mirrorless camera that's been built with a fixed lens.
 Nikon has mainly withdrawn from this market, but it still sells some Coolpix cameras. These are built to endure tough conditions.
  Olympus sells waterproof Tough TG cameras. However, it's winding down their presence, and very few compact cameras have the Olympus name any more.
Panasonic offers compact cameras from budget to mid-range to high-end in its popular Lumix series. These offer every level you'd want, from feature-laden to feature-light.
Sony competes with Canon and Panasonic for control of this market and it sells a lot of Cyber-Shot models. These are fairly similar to Sony's mirrorless cameras xxprice?xx. As with the other big brands, you can go more expensive or cheaper, and get different zoom ranges, sensor sizes and video resolutions as you scale.
Ricoh specialises in waterproof models through its WG range. These cameras come in tough shields to protect them from rough elements – and accidents.