Goodfella's, Chicago Town and Dr Oetker go up against the supermarket own-brands in our meaty pizza taste test
There are few things more satisfying than a freshly baked pepperoni pizza, with its crispy base, rich tomato sauce, melted tangy cheese and a sprinkling of smoky sausage.
But with several supermarkets and a host of more expensive brands all offering similar pizzas, prices for this freezer staple really do vary. In fact, a Chicago Town pizza could cost you more than twice as much as a supermarket own-brand one.
To find out if paying more gets you a tastier slice, we pitted Goodfella's, Chicago Town and Dr Oetker frozen pepperoni pizzas against seven cheaper own-label options from Asda, Lidl, Sainsbury's and more. Lots of supermarket brands delivered brilliant results, but we only found one pizza worthy of Best Buy status.
Find out which frozen pepperoni pizza we recommend, based on our blind taste test conducted in June 2021
Best frozen pepperoni pizza
Asda's budget-friendly double pepperoni pizza was the top-scorer, with the more expensive big brands coming mid-table, albeit still with very respectable scores. All prices correct as of July 2021.
Best Buy: Asda Stonebaked Double Pepperoni Pizza – 79%
£1.15 (35p per 100g)
There's no doubt about which pizza is the best on test here. Asda's double pepperoni option walks away with our one and only Best Buy, scoring well on practically every measure.  Pepperoni fans will be pleased to hear that the flavour of the sausage was a big hit with our tasters.  And as it's the only pizza to double up on cheese – it includes cheddar and mozzarella – it's no surprise it also scored well for its cheesiness.  But Asda hasn't forgotten the basics here, either: the tomato flavours and the pizza base impressed our panel too, making this a well-balanced pizza that doesn't scrimp on the crowd-pleasing toppings. Available from Asda
Morrisons Stonebaked Double Pepperoni Pizza – 75%
£1.35 (39p per 100g)
It's another double dose of pepperoni, but this time from Morrisons. Taking second place, this stone-baked pizza scored well in most measures, but our tasters particularly liked the two types of pepperoni and the crispy base. However, it was slightly let down on the all-important cheese flavour, with 40% of our panel saying it tasted too weak. This more subtle flavour is likely down to Morrisons choosing emmental cheese over the traditional mozzarella.  Available from Morrisons
Iceland Wood Fired Stonebaked Triple Pepperoni Pizza – 74%
£1.50 (42p per 100g)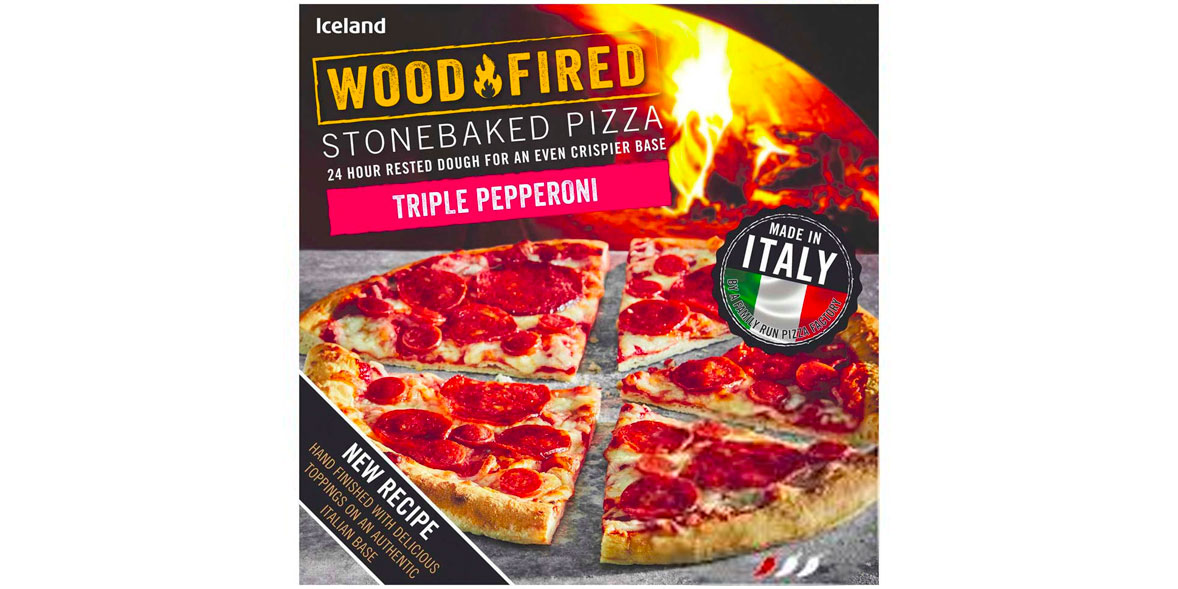 Iceland ups the ante with not two but three types of pepperoni. You get mini and regular-sized smoked pepperoni along with a smattering of spicy pepperoni.
Our panel were satisfied with the flavour of all three types of sausage, and they also liked the texture of the 24-hour-rested dough base. It was missing a little on the overall taste sensation, though, with the cheese in particular coming up short for around a third of our panel.  Available from Iceland Goodfella's Stonebaked Thin Pepperoni Pizza, Chicago Town Tiger Crust Double Pepperoni Pizza and Dr Oetker Ristorante Pepperoni-Salame Pizza – 73%
£2.25 (66p per 100g), £2.50 (78p per 100g) and £2.50 (78p per 100g)
Three pizzas from big brands took joint fourth place in our blind taste test, and our panel didn't find much wrong with any of them.  They all achieved the same good overall score and provided the pepperoni hit you'd expect from a pricy pizza.  Cheesiness was the only area that resulted in mixed reviews. Dr Oetker's pizza uses a mix of mozzarella and the more subtly flavoured edam, which didn't prove as popular with our tasters as the Goodfella's purely mozzarella-based topping. Chicago Town's pizza also struggled to get the panel enthused about its more subtle mozzarella cheese layers.  Aside from their high price in comparison with the other pizzas we tested, there's nothing drastically wrong with them, and they all provide a perfectly good slice of pizza. Chicago Town pepperoni pizza is available from Asda and Tesco Dr Oetker pepperoni pizza is available from Asda, Iceland, Morrisons, Ocado, Sainsbury's and Waitrose Goodfella's pepperoni pizza is available from Asda, Iceland, Morrisons, Ocado and Sainsbury's
Sainsbury's Thin & Crispy Double Pepperoni Pizza – 72%
£1.50 (44p per 100g)
Sainsbury's offers up another double pepperoni option that delivers on the meat but doesn't quite come up trumps when it comes to cheese, with more than 40% of our tasters saying the mozzarella didn't taste strong enough for their liking. It did well elsewhere, though, with a tasty tomato sauce and a base that was neither too thick nor too thin. It's nearer the bottom of our league table than the top, but this is far from a bad pizza. Available at Sainsbury's
Co-op Thin & Crispy Pepperoni Pizza – 69%
£1.00 (32p per 100g)
Co-op's pizza was middle-of-the-road in practically every category in our taste test.  The pepperoni flavour was fine but the strength of flavour from the cheesy topping was nothing to shout about. It was also one of the lowest scorers when it came to aroma.  On the plus side, Co-op's pizza is one of the cheapest on test.  Available from Co-op (in-store)
Lidl Trattoria Alfredo Stonebaked Thin Double Pepperoni Pizza – 66%
£1.98 for 2 pizzas (28p per 100g)
Lidl's pepperoni pizzas come in packs of two and are also the cheapest on test, which is great if you have a lot of mouths to feed.  However, they're lacking on flavour, with our tasters generally finding the toppings to be a bit underwhelming.  A fair proportion of our tasters said the sauce was too thin and weak-tasting, while more than half thought the cheesy flavour was also lacking. Available at Lidl (in-store)
Waitrose Essential Thin & Crispy Pepperoni Pizza – 56%
£1.40 (46p per 100g)
The most expensive supermarket pizza per 100g, you'd have expected Waitrose to score far better than it did. But unfortunately, there were problems galore with this pizza.  A huge 75% of our tasters complained the tomato sauce tasted too weak, while two thirds also thought the sauce was too thin.
Cheese was another area that needed improvement. More than half the tasters were crying out for a cheesier flavour. And even the pepperoni struggled to make an impact.
This is a seriously disappointing result for Waitrose's Essential pizza. Available at Waitrose How many calories are in a pepperoni pizza?
You may scoff at the idea of sharing a pizza but nearly all of the products we tested were recommended as serving two people. You can find out how many calories each pizza has per serving in the graphic below.
And if you're not sure half a pizza is going to fill you up, perhaps consider a side salad to fill in the other side of the plate where the rest of the pizza would be.
How to recycle pizza boxes
Cardboard pizza boxes can usually go in your household recycling bin. Some pizzas are wrapped in a non-recyclable plastic film which you'll need to dispose of in your general waste bin.
How we tested frozen pepperoni pizza
The pepperoni pizzas were assessed by a large panel of consumers who regularly buy and eat this type of pizza.  The make-up of the panel broadly represents the demographic profile of adults in the UK. Each pizza was assessed by 65 people.
The panellists rated the taste, texture, aroma and appearance of each product, and they told us what they liked and disliked about each one. The taste test was blind, so the panellists didn't know which brand they were trying. The order in which they sampled the pizzas was fully rotated to avoid any bias.
Each panellist had a private booth, so they couldn't discuss what they were tasting or be influenced by others.  The overall score is based on:  50% flavour  20% appearance  15% texture  15% aroma These weightings are based on consumer rankings of the importance of different pepperoni pizza attributes.