We tested 16oz claw hammers from B&Q, DeWalt, Homebase, Stanley and more, to find out which is the easiest and most durable to help you complete common DIY tasks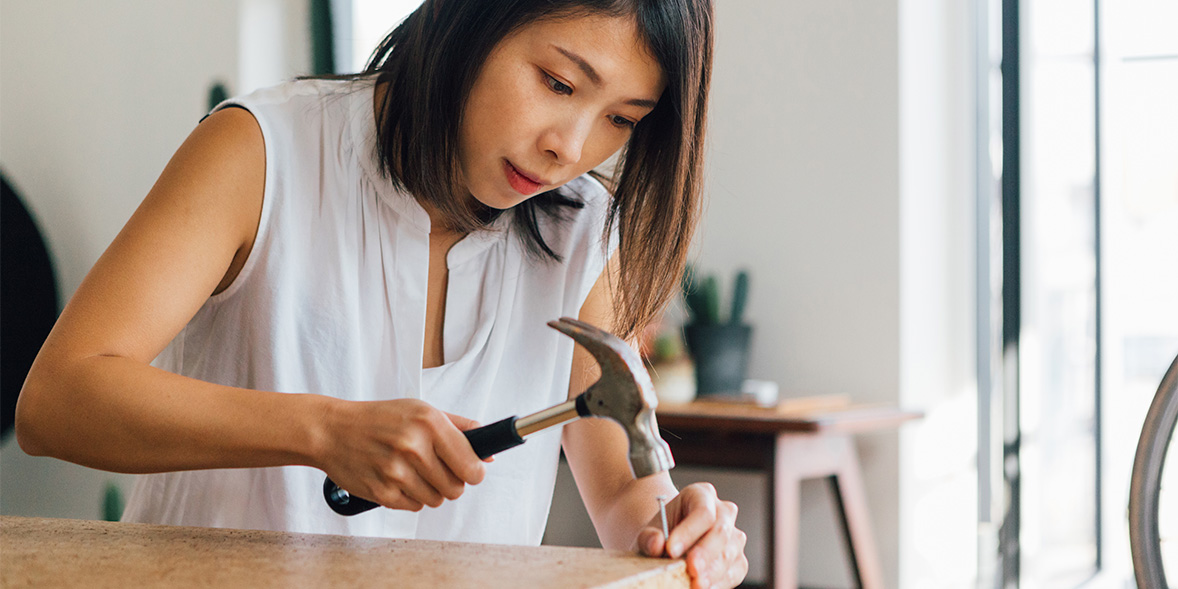 Claw hammers are the most common type of hammer and can be used for a wide variety of tasks, such as putting up a picture, building a new fence or pulling nails out of an old one. A good hammer is the tool you want hanging from your toolbelt, so in September 2021 our team of researchers tested nine 16oz claw hammers from brands including Stanley, DeWalt and Draper, which were bought from retailers such as B&Q, Homebase, Screwfix and Toolstation. Find out which of the hammers we tested was the most comfortable to use and had the best design for both hammering in and pulling out nails.
The best claw hammers
Editor's Choice: DeWalt One-Piece Rip Claw Hammer
Cheapest price: £26.99 available from Screwfix, also available from Amazon
Our verdict: Comfortable, reliable, durable – our top pick A smart-looking and well-designed claw hammer, which feels great in the palm of your hand, well balanced and is very easy to use when hammering in nails.
However, it was harder to use to remove the nails due to the rip claw design.  Rip claw hammers have a straight claw, unlike the curved claws of regular claw hammers. The curved claw is said to be better at pulling out nails. The straight claw is often preferred by carpenters as they use that straight claw for other key woodworking tasks, such as splitting lumber. An odd thing about this claw hammer is a wax-like coating around the metal of the head. This chips away as you use the hammer, but the metal beneath is unharmed.
Editor's Choice/Great Value: Bluespot Claw Hammer
Only available at Amazon: £7.49
Our verdict: Great hammer at a great price A very comfortable and easy-to-use claw hammer that proved to be durable.
This 16oz claw hammer from Bluespot has a contoured handle, which the manufacturer says is designed to give you a more secure grip. Our researchers agreed with Bluespot, finding that this hammer's handle felt secure and comfortable in their hands.  The traditional curved claw gave our researchers a great angle to work from and easily removed the nails.  There seemed to be very little damage to the hammer after our week of testing.
How the rest of the claw hammers we tested fared
Here are our verdicts on the other claw hammers we tested, in alphabetical order.
B&Q Claw Hammer
Only available at B&Q: £4.36.
Our verdict: Gets the job done This hammer from B&Q is the cheapest in our selection, and you can tell.
Our researchers found the plastic handle rough, and the hammer we bought even had plastic flaking off in a few places. We also found it a bit unbalanced, and this showed by making it slightly more difficult to both force in and pull out the nails. That being said, this hammer will do the job. After all our tests had been completed, we found this claw hammer had suffered little damage.
CK Hi-Vis Claw Hammer
Only available at Screwfix: £17.99.
Our verdict: Good but uncomfortable While this hammer was well balanced and easy to use, we found the bright orange plastic handle to be somewhat uncomfortable. However, the plastic proved to be strong and was undamaged during the durability tests. Our researchers found this hammer to be one of the easier to use for hammering in nails, thanks to its design. There was also no issue with pulling the nails out again. This 16oz claw hammer from CK Hi-Vis is made from drop-forged high-carbon steel, which the manufacturer claims has been hardened and tempered for strength and durability. After all of our tests were completed, we didn't find any damage to the metal head of the claw hammer.
Draper Redline Claw Hammer
Only available at Amazon: £11.69.
Our verdict: Gets slippery when wet This traditionally designed claw hammer from Draper Redline has a strong and smooth hardwood handle that's very comfortable to grip. Our testers also thought this hammer has good balance, which makes it easy to use.  As for the claw, our researchers said it had a good angle and made light work of pulling out the nails. However, the smooth wooden handle became a bit slippery when damp.  When we examined this claw hammer at the end of our tests for any sign of damage, all we found were a few scuffs and tiny dents in the metal, but overall it was still perfectly fine to use.
Estwing Curved Claw Hammer
Cheapest price: £39.08 available from Amazon, also available from Screwfix.
Our verdict: You can get better for less The priciest of all the hammers we tested, this Estwing claw hammer is well balanced and easy to use, but it developed rust during the week we had it.  The handle wasn't that comfortable to grip, but the curved claw is a good shape to easily remove nails.
Although we stored it in the same shed as the rest of the hammers and under the same conditions, the Estwing hammer was one of two hammers to develop small areas of rust as you can see above.
Magnusson Claw Hammer
Cheapest price: £8.46 available from B&Q, also available from Screwfix.
Our verdict: Least comfortable we tested While this hammer could do the job as well as the rest, we found it the least comfortable to use. Our researchers found that this hammer had a slightly uncomfortable grip, and some considered the claw to be too short to get a good angle when pulling out nails. One researcher also pointed out that the handle jabbed into their hand as they pulled out the nails. The carbon-steel head of the hammer has been heat treated for durability, and we found the head was undamaged after all our tests.  However, the handle did have a few cracks across its surface. We also noticed that the join at the top between the handle and the metal wasn't flush.
Olympia Tools Claw Hammer
Cheapest price: £4.99 available from Toolstation, Screwfix.
Our verdict: Somewhat easily damaged and doesn't appear well made This claw hammer is comfortable to hold, but it's not the most well made or durable. Our researchers found that it was easy to use, but we weren't all that impressed with the build quality or durability.
There were visible droplets of dried glue around the join between the head of this hammer and the shaft, and there were also cracks in the casing of the handle, as you can see in the image above.  We also noticed a tiny amount of rust had started to form on the hammer's head.
  Stanley Fibreglass Claw Hammer
Cheapest price: £9.40 available from Amazon, also available at Screwfix, Toolstation.
Our verdict: Light, comfortable and well balanced This claw hammer felt light and was easy to hold, with a good comfortable grip. We also thought this 16oz claw hammer felt well balanced when we swung it. However, during our initial examination, we found plastic ridges and a small gap between the head and shaft. After the durability test, the hammer's head and handle were scuffed and dented, but it was only superficial damage.
What's the best way to use a hammer?
1. Prep the nail
To start with, get the nail in place.  Hold the hammer in the middle of the handle and hold the bottom of the nail with your finger and thumb to keep it in place.  Then gently tap the hammer on the top of the nail.  Once the nail stands up on its own, move your hand away from the nail.
2. Drive the nail in
Grip the handle closer to the bottom end and swing the hammer from the elbow, not the wrist. Swinging from the elbow and holding close to the bottom allows the weight of the hammer to do the bulk of the work and directs more force to the nail head to drive it in faster. As you swing, focus your eyes on the nail head to improve your aim.  Keep your arm bent to ensure your hammer strikes the nail flat. If you find yourself bending the nails, you're coming in at too much of an angle.
3. Pulling a nail out
The claw part of a claw hammer is designed to pull out nails and slip under the edges of objects. To protect the surface when you're prying out nails, slip a small wedge or scrap of wood under the hammer. If the nail is too long to get the right angle, try using a larger wedge underneath the hammer.
How to protect your tools from rust
If you want to get the most out of your tools, it's best to prevent rust from developing. If you spot rust on your tools, you'll need to treat it quickly to stop it from spreading.
Rust prevention
One simple thing you can do to prevent rust from forming is to keep your tools in a climate-controlled area.  If your workshop, shed or garage often fluctuates between cold and hot, your tools are likely to attract moisture and begin to rust. If this is the case, you may wish to consider placing a heater, as well as a dehumidifier, in your garage or workshop. Another option is to place silica gel packs in your toolbox, drawers or tool cabinets. This will help to reduce moisture.  Apart from controlling the climate, you can also help to prevent rust from forming on your tools by keeping them dust-free, because dust attracts moisture.  When cleaning your tools, make sure you always dry them completely.  You can protect the metal areas with an application of a rust inhibitor, such as WD-40, spread evenly with a microfibre cloth.
Rust treatment
If you spot rust forming on your tools, here's how to quickly remove it:   Clean the rusty tool in warm soapy water to remove any dirt or grease.  Rinse and dry thoroughly. With an abrasive material (for example a scouring pad, sandpaper or steel wool) scrub away light to moderate rust from the affected area. Coat with a light layer of WD-40 to prevent rust reforming.