We've surveyed more than 1,500 customers to bring you this essential guide to the best and worst hearing-aid providers
Getting the right hearing aids involves making a fair few important choices. Do you buy privately or go NHS? How much should you pay, and what shops offer the best and worst experience?   To find out, we've surveyed thousands of hearing-aid users about their experiences – from which places offer the best hearing tests and product choice, to those that deliver the best value for money. You can find out which hearing-aid providers scored best in the tables below, and more about what to look for when choosing a hearing aid in our video.
Best hearing-aid provider
Our survey results show that local independent hearing-aid providers are rated most highly by customers, with an impressive overall customer score of 86%. At the other end of the table is high street retailer Scrivens, with 69%. Local independents excelled at thoroughness of testing and staffing (including knowledge and professionalism). Survey respondents also praised their aftercare and price (including value for money) – the highest ratings in these categories. Out of the big  brands, Boots Hearing Care and Hidden Hearing got the highest customer score of 78%, although Amplifon and Specsavers were close behind with 77% and 74% respectively.  Boots and Hidden Hearing received three star or higher ratings for each of the aspects of service that we quizzed its customers about, and full five-star ratings for both the thoroughness of testing and testing environment.
NHS or private
Scrivens and Specsavers were rated only average for their product range, while other high street retailers were rated excellent or good. However, it's important to note that Scrivens and Specsavers are the only companies to offer an NHS-funded service to some customers referred by their GP or health professional.
This is called the Any Qualified Provider scheme and it means that Scrivens and Specsavers could well be limited in what they are contractually allowed to offer to NHS vs private customers.
For example, privately paying customers might be offered additional styles of hearing aid, although these hearing aids would be made by the same big brands as those offered to NHS customers – for example, Phonak and Signia. This may have influenced the ratings Scrivens' and Specsavers' NHS customers gave them for areas such as product range, hearing aid appearance and suitability.
How do hearing aid retailers differ?
Customers rated independent hearing aid retailers excellent for price, but they were the most expensive, with over half of respondents (54%) paying between £3k and £6k for a pair of hearing aids, rather proving the point that value for money isn't just about getting a bargain. This compares to Specsavers customers, just under half of whom (48%) paid between £1 and £2k. We did not have enough respondents to give average prices paid for Scrivens, but it's worth noting that they had the cheapest average price in our 2018 survey. It is easy to look at the upfront price and use that to compare brands, but you should delve further to make a true comparison.  Hearing-aid retailers are bundling things such as aftercare and what they include on an ongoing basis into their headline price. There can be quite a big difference in what they offer – from free batteries and wax traps to length of trial period and money-back guarantee. We've made it simple for you to compare what really makes up hearing aid prices by putting each retailer's offering side by side.
How much do hearing aids cost?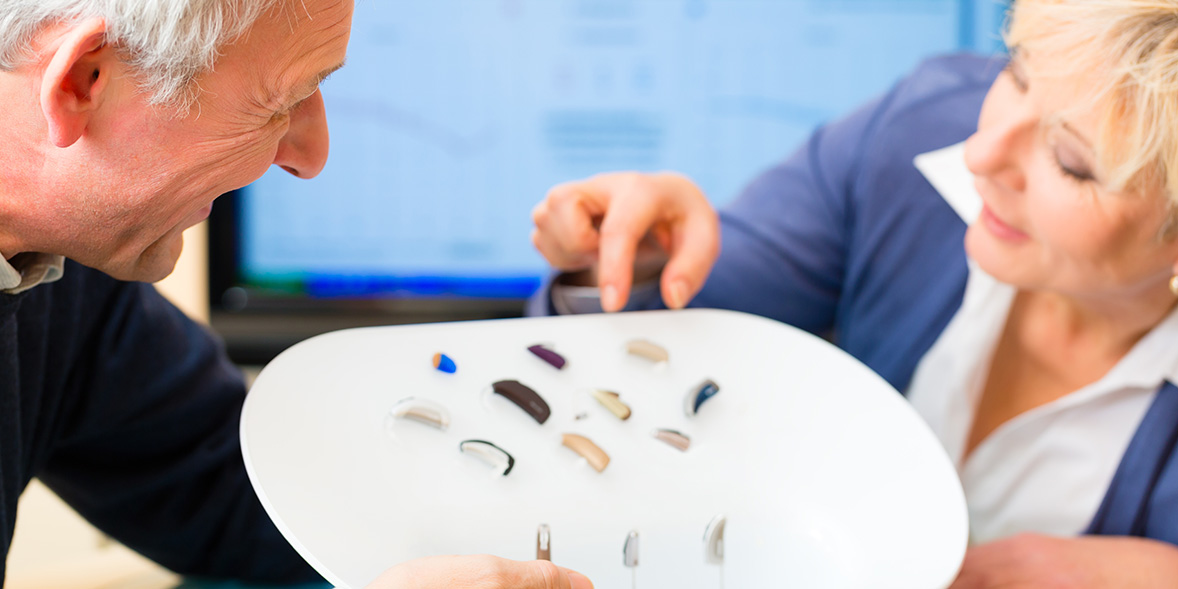 Although it's possible to buy hearing aids for as little as £100, most people who buy privately pay significantly more. The average amount spent on a pair of hearing aids, according to our survey, was £2,558. Most people buy two hearing aids rather than one. The lowest average price paid by Which? members for a pair of hearing aids was £1,850 from Specsavers. However, customers were more likely to report problems with their hearing aids from Specsavers than from other retailers. The highest average price paid for a pair of hearing aids was £3,145 from independents or small chains. Average prices paid at other chains for a pair of hearing aids were £3,037 at Amplifon, £2,496 at Hidden Hearing, £2,509 at Boots, and £1,850 at Specsavers. Find out what price you should expect to pay for the latest hearing aids including brands such as Oticon, Signia, Specsavers Advance and Phonak – basic, mid-range and high-end – in our guide to hearing-aid prices.
Why does it matter where I buy my hearing aid from?
It's crucial to choose a trusted retailer to ensure you increase your chances of getting the best hearing aid for you. The difference between a good and a bad hearing aid is not usually the aid itself, since most hearing aids are made by just a handful of manufacturers. It's more the professional fit and service given by the provider that matter more. It can take time to fit and adjust a hearing aid correctly so that it's working to maximise your hearing.
Without a careful and attentive fitting service, you could get frustrated and give up on your aid, consigning it to the back of a drawer forever. Most hearing-aid users wear their aid/s every day (78%), with another 11% wearing them two to five times a week.
The hearing aids providers were rated differently on the hearing aids themselves. Scrivens and Specsavers customers rated the store average for the range of hearing aids offered, its appearance, comfort and suitability of the hearing aids for the individual.
Other retailers were good or excellent on all of these measures. As above, it's worth noting that Scrivens and Specsavers include customers paid for by the NHS for whom they can only offer an agreed range of hearing aids, as well as private customers. If you think you may need a hearing aid, see our guide to buying a hearing aid for what you need to consider.
Will you be put under pressure?
Nearly one in five (16%) of private hearing-aid customers felt under some pressure to buy from that retailer, and one in seven (13%) to select a more expensive option that was recommended, but this varied considerably between providers, with the biggest differences between Hidden Hearing review and local independents. For example, just under a third (29%) of Hidden Hearing customers felt under some pressure to buy from that retailer, whereas one in 10 (11%) did from independents.
Although we have seen greater reports of pressure-selling in some other markets, such as stairlifts, it is important that no customers is put under any pressure and that you can take your time researching and choosing such important products.