Enjoy raising plants and growing crops with one of our Best Buys
Owning a greenhouse is a dream for many people but might not be realistic if your garden, or your budget, is small.  A 'pop-up' greenhouse could keep that dream alive, though. Cheap and easy to put up, these polythene-covered, slot-together structures promise to extend the growing season and give you many of the benefits of a more expensive glass greenhouse.
Best pop up plastic greenhouses
Overall score: 83%
Size (height x width x depth in cm)  170 x 118 x 44
Price: £45
This covered shelving unit was very simple but wide enough to give plenty of growing space. The tall, curved roof gave room for growth and allowed the front cover to be rolled out of the way, making watering plants on the top shelf easy. It can't be fixed halfway for ventilation but zips could be partly opened. It didn't get too hot or cold, though, so we got good seed germination and a fantastic crop of tomatoes.
Best Buy Gardman Grow It Premium Walk In Growhouse, Two Shelves
Overall score: 80%
Size (height x width x depth in cm)  195 x 138 x 141
Price: £110
This was one of two walk-in models in the trial and, while it was easy to put together, its size meant this took a bit longer than with the smaller ones. Pockets in the polythene skirts can be filled with sand or other weights to increase stability which is very handy. Ventilation is easy to control because the door (which opens on the right rather than on both sides as many do) can be held partially or fully open with the clip-together strap supplied.
Gardman Grow It Premium 4 Tier Extra Wide Growhouse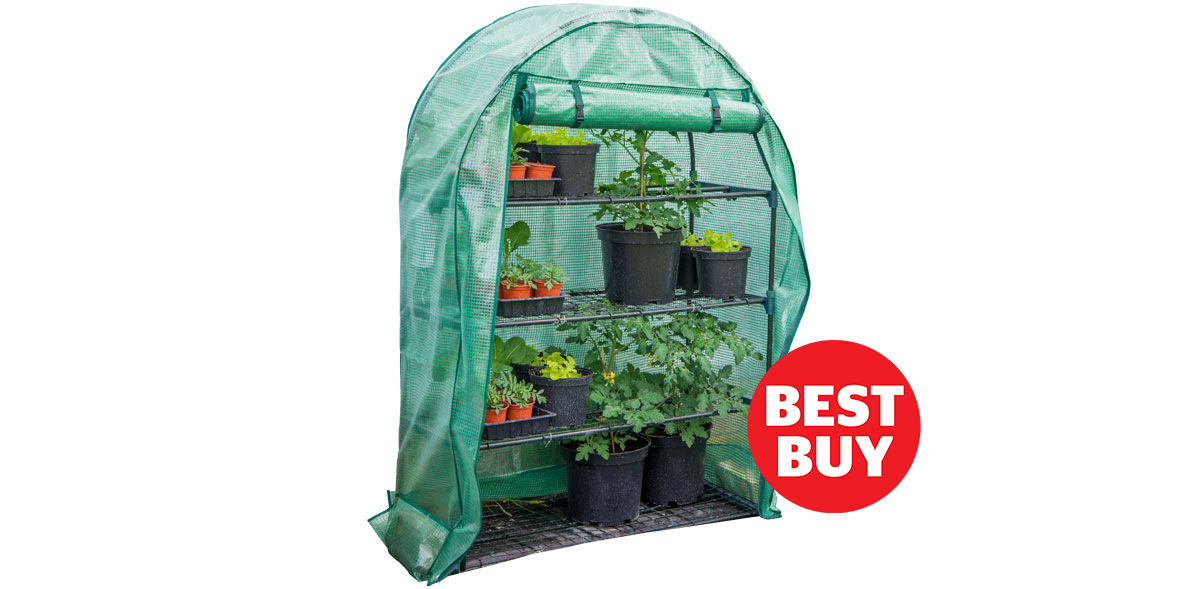 Overall score: 72%
Size (height x width x depth in cm)  160 x 105 x 45
Price: £37
Almost as wide as the Gro Zone, this gave good growing space, was stable and easy to put together. The front of the cover could be rolled up completely or left down, but zips could be partially undone for ventilation. We got very good tomato crops, while best seed germination and lettuce sizes were achieved on higher shelves so we suggest rotating smaller plants between lower and higher shelves.
Getting the best from your pop-up greenhouse
Like any greenhouse, place it in a sunny spot but preferably with some shade in the hottest part of the day, as well as shelter from strong winds. The structure and shelves are easily damaged if they blow over, so fix securely. Use guy ropes or place weights on the bottom of the frame or on the plastic skirts as appropriate. Night-time temperatures inside the greenhouses average one or two degrees above outside temperatures, so there's a risk of frost on very cold nights. Seeds of hardy plants can be sown in early spring but wait until May to sow or grow half-hardy or tender plants. Ventilate as needed during spring days, closing the door at night. You can leave the door open day and night in summer. The cover can be put away in winter. Broken covers are usually replaceable. The shelf structure can be left outside year-round.
How we test pop-up greenhouses
The researchers for Which? Gardening magazine bought nine polythene-covered greenhouses in different shapes and sizes, although two models have since been changed or discontinued so we haven't included their results. We set up the greenhouses at our test site in Yorkshire in a sunny spot with some protection from the wind. We fixed them in place using whatever means were provided, adding extra weights where needed to keep them stable
. At the beginning of May, we sowed seeds of cabbages, lettuces and marigolds in each pop-up greenhouse and in a glass greenhouse for comparison. In late May, five plants of each type were potted up and grown on in each pop-up greenhouse and the glass greenhouse. In late June, we took those plants out, weighed the lettuces and replaced them with three plants of tomato 'Suncherry Premium' in 10L pots, which we grew on until late September.
We picked fruit as it ripened, recording weights and numbers. We assessed how easy the greenhouses were to put up and fix in place, the temperature range inside them, how easy it was to water the plants and ventilate the greenhouses, how well seeds germinated and plants grew in them, and their condition at the end of September.