Choose the best stair gate for your baby and home with our guide to different types available and what to look out for.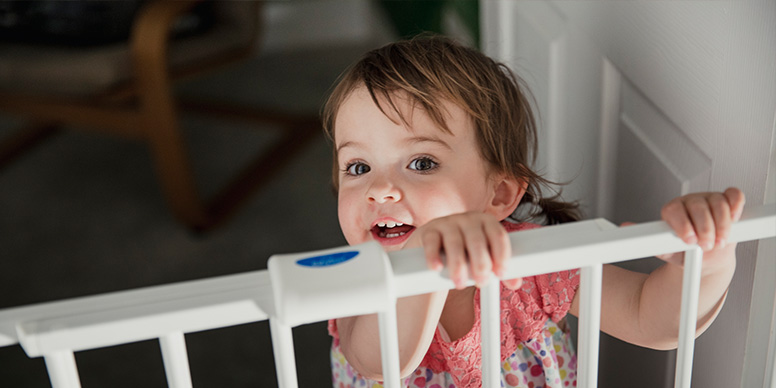 The key purpose of a stair gate is to keep your curious toddler away from anything that might cause them harm, including flights of stairs and busy kitchens with hot pots and pans.
All the stair gates have to meet the requirements of the relevant safety standard to pass our testing, which ensures they're sturdy, and can withstand the various shakes and rattles of a determined child.
However, the very best stair gates won't just be secure and safe. They'll have simple instructions for a straightforward installation, and they'll be easy to open and close.
These five stair gates got the highest scores in our tests, and are all Best Buys, so you can be sure they're a good option when it's time to pick out your safety gate.
When to buy a stair gate
Get a stair gate as soon as your child starts to show signs of crawling or using a baby walker to get about. They'll soon be moving faster than you realise.

Types of stair gate
The type of gate you choose will depend on its purpose and where you are putting it.
Major brands include BabyDan, Lindam and Safety 1st and Kiddyguard. Their stair gates tend to be constructed of wood, metal or fabric mesh, and they can be fitted by screwing them into the wall or by pressure fit.
A wooden or metal stair gate that is side-opening will need quite a bit of room to swing open into, so you need to think about whether this will cause any obstructions, or be awkward to navigate around.
A retracting or concertina stair gate could be the answer for areas with restricted space or if you want the gate to disappear when not in use.
Stair gates at the top of the stairs should open towards the landing, not towards the flight of stairs, as you could fall forwards while opening the gate. You should only use screw-fit gates at the top of the stairs.
How easy is it to open and close the stair gate? You don't want your toddler to be able to flick the mechanism open with ease but, at the same time, you may also need to be able to open and close the gate with a wriggling child under one arm. Some stair gates close automatically.
Consider the space you're covering – a particularly wide opening will limit the options available to you, but you can buy wide gates or extensions.
How much do I need to spend?
This depends on what style you want and the width of the space you're closing off.
A simple, cheap stair gate can cost as little as £10 to £15, but if you want something more stylish, or that has to fit an unusual space – such as a narrow stair gate or an extra wide stair gate – it could cost up to £100.
Compare all our stair gates reviews to find the best that suits your budget.
Pressure-fit stair gates
The gate sits within a fixed U-shaped frame that is held in place by pressure at four points. Extensions are often available if your doorway or stairway is wider than average.
They can be made of wood or metal. If the pressure is insufficient, then wall cups can be used to increase the security of the fixing.
Pros
There's no need to drill or screw these to the wall, so they're easier to install and won't leave holes behind
Extra features on pressure-fitted gates can include alarms to signal that they haven't been shut and auto-closing mechanisms.
Cons
The frame can be a trip hazard as the U-shaped frame means a rail runs along your floor. For this reason, they shouldn't be used at the top of the stairs.
Screw-fit stair gates
These are fixed to the wall with metal screws and can be made of wood or metal. You need to measure up carefully before buying your gate as you may need to buy extensions.
Pros
Very strong, sturdy fitting
There's no rail at the bottom, so no trip hazard. It's recommended that screw-fit gates are used for the top of the stairs.
Cons
They do involve some DIY and will leave holes behind once they're removed.
Mesh roller stair gates or concertina stair gates
These types of gate can be retracted when not in use so they're less obvious. They're usually either made of heavy-duty mesh which rolls up like a window blind, or hard plastic that folds in on itself like a concertina fan.
They need to be screwed into the wall.
Pros
There's no frame to trip over
Discreet when retracted
Can be good for wide openings.
Cons
They can be tricky to install
Can be as much as twice the price of wood or metal gates
Some lack structural strength
Wooden stair gates
Wooden stair gates can be either pressure-fit or screw-fit. You may decide to opt for a wooden stair gate if you have a particular style of decor in your house and you want the stair gate to match.
Travel stair gates
These are made of mesh, don't sit in a frame and completely come away from the wall when you release the pressure. They act as barriers rather than gates.
Pros
They can be useful for travel as they fold up and are light to transport.
Cons
Not the best option for daily use, as they have to be put up and down every time you go through them.
What to do with your old stair gate
Once you no longer need your stair gate, first off consider whether you might want to hold onto it for another use such as keeping a dog out of a kitchen.
If pets aren't on the horizon, you could try selling the gate on an online marketplace. Just be sure to check there are no areas where the gate has weakened from one too many shoves or rattles by a determined child or pet.
If possible, sell the gate with the original instructions and all fixings. This is usually easy enough if you have a screw-fit gate.
For pressure-fit gates that use wall cups and adhesive pads that hold the wall cups in place, make sure you include spare sticky pads or screws so it can be installed that way.
Stair gates are difficult to recycle as they're usually made from a mixture of metal railings and plastic fixings.
However, you could take it down to your local recycling centre to see if it can be recycled. Otherwise, it will need to go to your council waste centre to be properly disposed of.
Dog gates for stairs
Lots of people use safety gates as dog gates for stairs and to keep pets in or out of certain rooms.
Some stair gates also come with a small door inset into the gate if you want to let a smaller pet through while keeping large people and dogs out.
We test all stair gates with an impact test where the gates are hit with a 25kg weight (that's roughly the same weight as a small female labrador or a large springer spaniel), three times to see if the gate comes loose or breaks.
Some gates pass this test, but some come loose after a couple of further hits.
It's worth bearing in mind that some dog gates are not appropriate for babies, as they may have horizontal slats that your baby might use to climb up and over the gate, or small parts that can fall off and be a choking hazard.
If you're planning on getting a dog (but a baby could also be on the horizon), you're best choosing a baby stair gate that holds up in our tests as then you'll know it will be suitable for protecting both.
Stair gates Reviews
Fred Safety Pressure Fit Clear-View Stairgate
 review
Key features
Gate
Plastic
Pressure fit
 verdict: Best Buy gate with clever features
The Fred Safety Pressure Fit Clear-View is a decent stair gate and, as long as the price doesn't put you off, it's definitely worth a look. It aced all the relevant tests in the safety standard and has some useful features that other gates lack, helping to make it a Best Buy product.
Pros
Clear plastic makes it less of an eyesore
One-handed opening
Glow-in-the-dark anti-trip strip
Cons
Difficult to keep clean
Expensive
Baby Dan Flexi Fit Wood
 review
 verdict: Brilliant Best Buy stair gate
This is one of our highest-scoring stair gates. As a screw-fit gate, it's initially a little fiddly to set up and install, but this is more than worth it when you consider how strong and sturdy it is.
Pros
Extremely strong and secure
Cons
Safety 1st SecurTech Flat Step Safety Gate
 review
 verdict: Great value Best Buy stair gate
This stair gate is sturdy, leaves no marks and reduces the risk of tripping, which contributed to it becoming a Best Buy safety barrier.
Pros
Sturdy and secure
Reduced risk of tripping over bottom U bar
Easy to open
No need to drill holes
Cons
Cuggl Single Panel Metal Wall Fix Gate
 review
 verdict: Very good basic Best Buy gate
This gate may lack some features of other stair gates, but it's good at the important things – staying secure and closed. As it uses screw fittings, you will need a drill to fit it.
Pros
Strong and sturdy
Clear instructions
Simple to use
Cons
Dreambaby Ava 2020
 review
 verdict: Safe gate that's easy to use
This screw-fit pressure-mounted stair gate passed all our structural tests and is easy to assemble. It's simple to open and close the gate and can be done one-handed.
Pros
Gate latch is easy to open and close
Stay-open feature
Clear instructions
Passed all the safety checks and tests
Cons
Need to drill holes to attach wall cups so may not be suitable for rental properties
John Lewis Single Panel Wooden Gate
 review
 verdict: Sturdy and safe
This stair gate is proof that keeping it simple really makes all the difference for safety and durability. It's definitely worth a look.
Pros
Secure and sturdy
Easy to fit and use
Good value
Cons
A little tricky to close the gate
Baby Dan MultiDan metal extending
 review
 verdict: Strong, screw-fit stair gate
This screw-fit gate is a good option if you need a gate for the top of the stairs. It's secure and straightforward to set up.
Pros
Easy to fit
Sturdy and secure
Cons
Will make holes in your door frame
Can be tricky to close gate
John Lewis Extending metal safety gate
 review
 verdict: A good, simple stair gate
This stair gate is a bit fiddly to put up as you have to drill holes in your door frame. Once it's set up, though, it's very sturdy and secure, and is a Best Buy, so it's definitely worth a look.
Pros
Strong and sturdy
Good value
Straightforward instructions
Cons
Need to drill holes in your door frame
A little tricky to close the gate
Lindam Wall Fix Extending Wooden
 review
 verdict: Strong stair gate that exceeds the standard
This isn't just a safe gate, it's also really strong, because it passed our additional impact test to sort out good gates from great gates. Read on to find out more.
Pros
Passed all safety tests from EU standard
Very strong – it withstood a 25kg impact test
No trip hazards
Clear instructions
Cons
Latching mechanism is a little fiddly
Damage to wall or doorframe due to drilling in fittings
 verdict: Great to use and install.
The Baby Dan Guard Me stair gate is a good choice because it's so easy to install and use.
Pros
Quick and easy to install
Lightweight
Cons
Installs via screws
So you'll have to drill holes
Lindam Sure Shut Axis
 review
 verdict: Excellent pressure-fit stair gate
This pressure-fit gate is very good and a great choice for anyone looking for a gate that doesn't require drilling to fit it. It meets all the safety requirements and is easy to install.
Pros
Quick and easy to install
Doesn't require drilling
Sturdy and secure
Easy to open and close
Cons
U-bar frame creates tripping hazard
Adhesive pads may leave sticky residue when you come to remove
Lindam Extending Metal
 review
 verdict: A very reasonably priced gate
This gate may cost less than £30, but it passed all our safety checks – including an impact test where our experts repeatedly hit the installed gate with a 25kg weight (that's roughly the weight of an average six-year-old) to see if it breaks or moves out of position. Only downside is it's not as easy to assemble and the instructions aren't quite as clear as they are with other gates.
Pros
Less than £30
Passed our safety tests
Cons
Instructions could be clearer
Baby Dan No Trip Metal
 review
 verdict: Good for use at the top of the stairs
This gate is sturdy and secure. If you're happy to drill holes in your wall or door frames, this is a good choice of stair gate. It's also easy to install, and open and close.
Pros
Sturdy
Passed all the EU safety checks
Lack of u-bar means no trip hazard
Can open one-handed
Cons
You'll need to drill holes in your wall or door frame
Lettering in instruction booklet is too small
John Lewis Extending Wooden Safety Gate
 review
 verdict: Simple yet effective
There are no major issues with this gate. It's safe and sturdy, reasonably easy to put up and could be a good choice to place at the top of your stairs, as there's no u-bar to trip over.
Pros
Safe and sturdy
Easy to open and close
No trip hazard
Suitable for top of stairs
Cons
Purchase information missing minimum and maximum opening widths
Requires drilling
 verdict: Impressive pressure-fit safety gate
This pressure-fit safety barrier aced all of our structural tests; it's easy to assemble and it's a good value.
Pros
Strong
Sturdy and easy to fit to doorways
Won't leave a mark on your door frame
Cons
Look out for the bar running along the bottom as it's a trip hazard
Dreambaby Liberty Security Gate with Smart Stay Open Feature
 review
Key features
Gate
Metal
Pressure fit with screwed wall cups
 verdict: Easy to install, sturdy and secure gate
This is a smart, robust and sturdy gate which presented no problems in our safety tests and took a matter of minutes to put up.
Pros
Strong
Robust frame
Simple assembly
One-hand latch release
Audible 'click' close
Opens both ways
Wipes clean easily
Cons
U-bar trip hazard
Requires screws and sticky pad wall cups for installation
Will damage walls or door frame
Badabulle Deco Pop Extendable
 review
Key features
Gate
Wooden
Pressure fit and screws
 verdict: Decent wooden stair gate
This is a decent wooden stair gate that has the option of being fitted as either a pressure fit or screw-fit gate, providing choice for users.
Pros
Choice of being screw-fit or pressure-fit
Latch mechanism is easy to use
Passed durability tests
Good range of adjustments
Cons
Need to remove whole gate to walk through when pressure-fit mounted
Takes a while to set up the gate
Cuggl Wall Fix Extending Safety Gate
 review
 verdict: Smart, simple and versatile gate
No real problems appeared in our safety tests for this design, plus it took only a few minutes to put up with the screws and fixings supplied. It's also well-priced at £20.
Pros
Securely wall mounted with screws
Adjustable width to fit non-standard spaces
One-hand opening
Double-lock mechanism
No trip hazard
Cons
Screw fixings may damage wall or door frame
Installation requires drill and screwdriver
Hauck Open'n Stop Safety Gate
 review
 verdict: Easy to fit and use
This is a pretty good stair gate that's nearly a Best Buy. It's sturdy and easy to put up, plus you've got plenty of options to extend the gate by buying extra extensions to fit larger doorways.
Pros
Sturdy
Easy to fit
Can open one-handed
Won't leave marks on the door frame
Cons
Need to double-check that gate is closed properly
Lindam Sure Shut Deco Gate
 review
Key features
Gate
Wood and metal
Pressure fit
 verdict: Child's play to fit
This Lindam gate was extremely easy to use and quick to fit – it took us just 10 minutes to install, aided by good clear instructions and diagrams in the manual.
Cons
Minor trip hazard from the ground bar