If you love watching sport, Sky and BT are essential for the biggest games. But which should you choose – or are you best off with both?
It used to be easy – if you wanted to watch sporting events on your TV, you'd just pay for a Sky Sports subscription. But that changed in 2013 with the arrival of BT Sport.  For the first time, Sky had a genuine competitor. But how do BT Sport and Sky Sports compare? Which is cheaper, which is the best, and can you get away with a single subscription, or should you shell out for both? Read on as we weigh up the pros and cons of the two contenders. Find out how customers rated Sky and BT, and which came out on top in our TV & broadband survey, in our guide to the best TV and broadband providers.
What sports can you watch on BT and Sky?
Currently, BT Sport customers who sign up to the full range of BT channels (BT Sport 1, BT Sport 2, BT Sport 3 and BT Sport ESPN) can watch 52 exclusive live Premier League games per season. They also get live matches from other competitions, including the Champions League and Europa League, plus live games from the Gallagher Premiership rugby championship. Fans of other sports can enjoy cricket (including the Ashes), NBA Basketball, Major League Baseball, Ultimate Fighting Championship, Moto GP and Nascar.
Sky Sports offers 10 channels, including a dedicated Sky Sports News channel and the Sky Sports F1 channel. Sky customers can watch an array of events including over 140 live Premier League games, live rugby (including England internationals), Formula 1 and England cricket matches. Both BT and Sky offer HD and Ultra-HD content, although to access the latter you need to sign up directly with the relevant provider (ie with BT to get BT Sport Ultra HD, or Sky to get Sky's Ultra HD).
How do BT and Sky's costs for sports compare?
You don't have to be a BT pay-TV customer to watch BT Sport, or be a Sky pay-TV customer to watch Sky Sport. Almost all TV providers let you add the channels to your pay-TV package, although you'll usually get a better deal if you subscribe to them directly. If you're considering signing up, make sure you find out how the two providers did in our latest satisfaction survey first – we have full reviews of both BT TV and broadband and Sky TV and broadband. BT broadband and TV packages include the BT Sport channels, while BT broadband customers can pay £15/month (with a 24 month contract) to watch online or through the app. If you get your pay TV service from another provider, prices are typically higher (eg: £29.99/month for SD channels on Sky TV or with TalkTalk).  If you prefer, you can opt for BT's Monthly Pass – it's contract-free and costs £25 a month. Rather than being a part of your pay TV deal, Monthly Pass allows you to watch BT Sport via the app or web player and doesn't require you to be a BT broadband customer. Sky Sports is generally more expensive than BT Sport.
Sky customers can add it to their service for £20/month with an 18-month contract. You can pay less if you're happy to add just a single channel – Sky Sports HD for example, or a dedicated football, golf or cricket channel. Additional channels can be added for an additional fee, but you'll likely find that you get better value to subscribe to the full array of channels than just two or three of them. Customers using other pay-TV services will pay a different amount depending on the Sky Sports channels that are available.
For example, Virgin Media offers Sky Sports HD in its VIP Bundle, but if you choose to add the Sky Sports collection to its cheapest bundle it will cost £31.75/month in SD. Sky also offers Sky Sports channels via its Now TV add on, which costs £33.99 a month. In fact, anyone can access Sky Sports without a pay-TV subscription through Now(formerly known as Now TV). The Sky-owned streaming service offers one-off passes to watch all the Sky Sports channels on your TV or an internet-enabled device, with no need for a contract. To do this, you simply need to open a Now account online and then choose between the day or month passes (£9.98 and £33.99 respectively).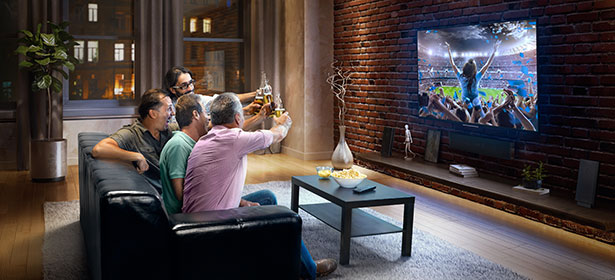 Which provider should you pick for the best sports coverage?
The best option depends on your own personal preferences. If you want the widest choice of sporting events, Sky Sports is your best bet. But if you're looking to cut costs, BT Sport is better value – especially if you sign up for it as part of a package with BT TV and broadband. But it's also crucial to consider the specific sports you want to watch – after all, there's little point signing up for BT Sport if you're mad about F1, or choosing Sky Sports if you're a Champions League fanatic.
If budget isn't a consideration, you can always sign up to both Sky Sports and BT Sport for the ultimate TV sports line-up. And alternatively, if you're only interested in a specific sporting event, such as the Super Bowl, then Sky's short-term Now TV pass offers a handy option.