Expert tips for finding a great money exchange rate when you buy holiday cash on the high street.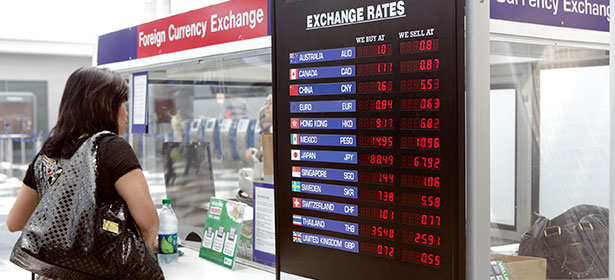 It's always a good idea to have cash on you when you arrive in a foreign country. Plastic is widely used and convenient, but cash is the only method of payment you can guarantee every shop will accept and you'll probably need money for a taxi, bus or train when you arrive.
However, buying your foreign currency from the wrong place could cost you; you'll get fewer euros, dollars or yen for each pound you exchange and will therefore have less to spend on your holiday. If you're looking to buy travel money over the counter, here are our top tips for getting the best deal on currency exchange.
However, you may want to consider ordering your foreign currency online before buying:  research has found the best exchange rates are often available to customers who do.
1. Don't exchange money at the airport
Airportbureaux de change rarely offer the best currency exchange rates – and with a 'captive audience' of holidaymakers surrounding them, they arguably have little incentive to! Preparing and packing for you holiday can be a stressful business, but don't leave getting your travel money until the last minute. Which? has found changing money at the airport could cost you significantly more than using a competitive high street outlet elsewhere.
2. Buy online, but beware
Some online currency ordering services allow you to pick up your cash at the airport. This combines the convenience of getting your travel money just before flying, but means should also benefit from a better exchange rate. However, foreign exchange is not a regulated service so there is no protection for your money if the online currency provider goes bust, meaning you might not get your money back. This can affect holidaymakers and also business travellers.
3. Shop around for foreign currency
Not all bureaux de change will use the same money exchange rates or charging structures. Some impose a fee when you buy foreign currency, while others don't – so you must consider the total cost of changing your cash before handing it over. This is simpler than it sounds; just ask exactly how much foreign currency you will get from each outlet in return for the pounds sterling you are seeking to exchange. It's worth comparing the deals on offer from several companies before changing your money, and you may also want to steer clear of high street banks. Which? research shows banks typically fail to offer the best exchange rates and may only offer currency exchange services to existing customers.
4. Get more for your money: haggle over the exchange rate
Some bureaux de change will tweak the exchange rates they offer if you're confident enough to haggle, and may agree to match the deals on offer from competitors.
5. Pay for foreign currency with cash or a debit card
Paying for your foreign currency by credit card is likely to mean you incur extra charges as credit card providers will typically treat the purchase as a 'cash advance' and charge you a fee.  Of course, you could dodge these fees simply by paying for your foreign currency with cash or a debit card.
Be safe when carrying foreign currency
Don't forget: consider safety when carrying foreign currency around with you and storing it at your holiday accommodation. Never take more out with you than would be covered under your travel insurance policy if it was lost or stolen, consider keeping it in a money belt and ensure whatever cash you're leaving at your hotel room or apartment is stored in a safe.