Learn how to ride e-scooters legally and what we discovered about their safety in our tests. We also reveal how much electric scooters cost and what you'll spend charging them.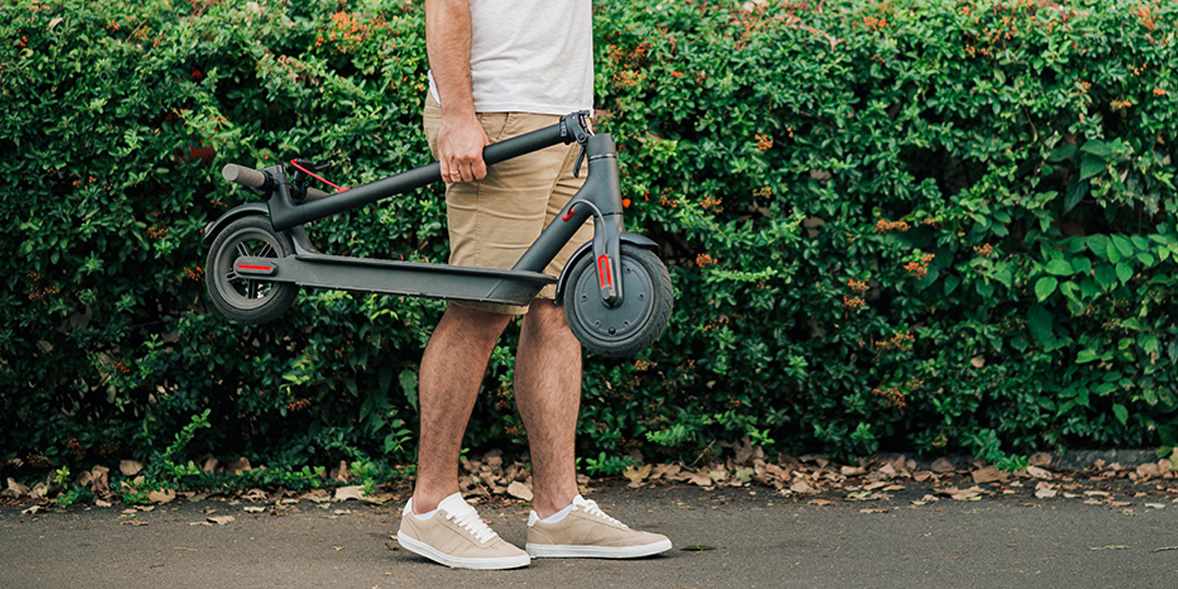 Electric scooters are rising in popularity and there are hire schemes available, but privately owned e-scooters are not legal to use on public roads, cycle lanes or pavements and current laws in the UK restrict where e-scooter owners can ride.
This hasn't stopped many breaking the law and there have been a number of accidents due to electric scooters.  Read on to find out everything you need to know about the legality of electric scooters, as well as reviews of e-scooters, potential safety issues to look for and a breakdown of running costs.
Are electric scooters legal?
You can legally use an electric scooter on private land, as long as you have permission from the land owner.  The UK government is also running trials of electric scooters in cities and areas around the country, including Cambridge, Liverpool and Nottingham, to see how members of the public adapt to the new method of transport. You can find a full list of electric scooter trials on Gov.uk.  It's illegal to use your own electric scooter on public roads and pavements. If you're caught, you could face a fine and penalty points on your driver's licence, if you have one. Your e-scooter could also be impounded. Watch our video below to find out more about the legal situation with e-scooters.
When will electric scooters be legal?
Many MPs and transport groups are putting pressure on the government to change the current rules. In fact, a report by the House of Commons Transport Committee, published in October 2020, argues that the UK is 'the last major European economy where e-scooters are still banned to use anywhere except on private land'. The report concludes: 'We believe that the Department should take swift action to legalise the use of privately owned electric scooters on roads and cycle lanes. We would expect this to take place within the next 18 months.' As the debate continues, we don't know for certain if and when electric scooter laws will change in the UK.
How far can electric scooters go?
It all depends on which brand of e-scooter you're using, the size of the battery and the amount of charge it has left. You'll also need to consider the type of routes you go on. If you're riding an electric scooter on flat ground, it will last longer than if you were riding up lots of hills.  Our own expert analysis shows that Halfords is one of the most popular UK retailers that currently stocks electric scooters. With that in mind, let's look at the claimed ranges for each of its listed models:
Highest claimed range 28 miles
Average claimed range* 16.8 miles
Lowest claimed range 7 miles.
*Based on a total of eight adult electric scooters.
How to use e-scooters safely.
Understandably, many are concerned about the safety of e-scooters to pedestrians and other road users on public roads, either from illegal use or e-scooter hire trials.   This is something that the government will be reviewing as it makes a decision about making e-scooters legal.  Additionally, there are risks to riders themselves and keeping safe is paramount. Here's a number of things you should bear in mind when riding an electric scooter:
Check the tyres – squeeze your tyres firmly with your thumb and forefinger. If a tyre feels squashy, it's underinflated – don't ride the scooter until its tyres are pumped up, as it won't be stable and will be much more likely to skid out from under you while turning a corner.
Make sure the bolts on the stem are tight – the wheels and handlebar must stay in alignment while you're riding. We tested several scooters with loose bolts, which led to the handlebars coming out of alignment with the wheel. This is a serious safety risk. To check the bolts, stand in front of the scooter and trap the front wheel between your feet, holding the wheel tightly in position. Then hold the handlebars and twist firmly in either direction. If the wheel and handlebars are still in alignment after this, it's safe to ride.
Grab a helmet – it's not a legal requirement, but wearing a helmet is a wise move. Expect to spend between £10 and £30. Also consider wearing light-coloured or fluorescent clothing to make it easier for you to be seen.
Watch your ankles – electric scooters are extremely heavy and can weigh as much 24kg. This means that even when they're travelling at very low speeds, for example when you've just hopped off one, they're still moving with quite a lot of force behind them. A few of our researchers found that an electric scooter tapping against your ankles can be very painful and even causing bruising or cuts.
Watch out for potholes and uneven ground – electric scooters have narrow handlebars and their handling can be a little twitchy. This can make controlling severe jolts quite difficult. Some of the scooters we tested don't do a very good job of controlling vibrations, so much so that if a severe jolt takes you by surprise your hands could come off the handlebars.
Beware skidding – during our electric scooter test, we completed an emergency stop on each of the 10 scooters. Only two came to a halt without skidding. This means that if you need to stop in an emergency, you should get used to controlling a skid on a scooter.
Be careful on hills – most of the scooters we tested can't handle even shallow gradients, let alone steep hills. If there's a big hill ahead, many scooters will trundle to a halt, so be prepared to hop off and push.
No passengers – electric scooters are designed for one person only. It's not safe to carry a passenger. There isn't room on the scooter's standing board for two people, and the addition of an extra person can suddenly shift the balance of the scooter unexpectedly, leading to both passengers falling off.
Don't hang anything on the handlebars – electric scooters tend to have narrower handlebars and the handling is more sensitive than bikes. Hanging anything from either handlebar is an unnecessary risk and will put even an experienced rider off balance.
Be extra cautious in the rain – not only will rain make braking distances longer and increase the chance of skidding, most of the private electric scooters you can buy aren't designed for use in the rain. See our electric scooter reviews below to find out which ones will work in the rain.
Electric scooter reviews
We've tested 10 electric scooters from leading brands including Segway, Unagi and Xiaomi. We put the scooters through a variety of tough tests at the birthplace of British motor racing, Brooklands Transport Museum in Surrey.
Our tests included hill climbing, acceleration, braking, manoeuvrability, comfort and stability, and we uncovered some safety issues which are mentioned in the individual reviews below.
If you're considering buying one of these e-scooters, bear in mind you risk a large fine if you are caught on public roads and pavements, and we can't recommend buying them as privately-owned scooters are almost impossible to use within the law.
Decent X7 Electric Scooter RRP: £349
Maximum speed: 15.5mph
Maximum range: 15.5 miles
Weight: 12.8kg
Hill-climb test: It can climb a 12.5% incline at a crawl. It can't handle 20% or higher.
Our verdict: This e-scooter is manoeuvrable and stable, but the brakes are disappointing and it has a tendency to skid. The X7 was one of the lightest e-scooters we tested and relatively easy to fold down and carry.
It's also no slouch over 60 metres, arriving a couple of seconds after the most spritely in our tests.  However, it does struggle a bit on hills (although it wasn't the worst).
It crawled up a 12.5% incline, and where our test hill pitched up to 20%, this scooter faltered.  Its brakes let it down, too. This e-scooter took the longest to stop (7.6 metres) in our emergency-braking test, and it's very prone to skidding.
Furo Systems Fuze
RRP: £649 
Maximum speed: 25mph
Maximum range: 34 miles
Weight: 20.8kg
Hill-climb test: Can easily climb a 12.5% hill, but it failed on a 20% gradient. 
Our verdict: Too fast and also pretty bulky and heavy. Plus the accelerator is too close to the brake. This e-scooter reminds us a bit of Biff's hoverboard in the 80s blockbuster 'Back to the Future'. But unlike Biff's 'Pitbull', the Fuze is only IP55 rated, so it won't work too well on water (see comparison table below for the water-resistant properties of each scooter).  In terms of the test results, this is a pretty decent electric scooter.
It handles 12.5% gradients with ease, but despite claims to the contrary, it failed to make it up a 20% gradient.  The brakes are quite good on the face of it, with the scooter stopping in a relatively short distance. But the position of the accelerator directly above the brake isn't ideal.
In an emergency stop situation we can imagine an inexperienced rider grabbing both the accelerator and the brake, which wouldn't be safe.  It's also worth noting that the Fuze is not an assisted e-scooter. You don't need to push off with your leg to get the power to kick in, as you do with all of the other e-scooters we tested.  This electric scooter isn't particularly easy to manoeuvre.
It's also very heavy, so it gets a poor rating for folding and carrying. For the purposes of our tests we restricted the top speed of this e-scooter to 15.5mph to match the other scooters in our test. We wouldn't recommend using it at a faster speed.
Inmotion L9
RRP: £749 
Maximum speed: 18.6mph
Maximum range: 59 miles
Weight: 24.1kg
Hill-climb test: Second place overall.
It made it up the 12.5% incline, only marginally behind the best on test. It then crawled up the 20% incline and faltered on 25%.
Our verdict: This is a good e-scooter, but it's also incredibly heavy and the acceleration is jerky. The ride comfort and climbing ability impressed our panel. However, its enormous weight means it's almost impossible to carry, even short distances.
The sheer amount of power delivered to the wheel can also make the acceleration feel quite jerky, and we experienced a bit of wheelspin.  But despite its weight, this e-scooter is relatively quick and it can also climb: it's one of only two electric scooters that made it up the 20% incline in our tests, but it stalled on 25%.
Our researchers found that it damped vibrations effectively on tarmac, and it's a good e-scooter for riding on uneven surfaces.
Li-Fe 250 Air Pro Lithium
RRP: £299.99 
Maximum speed: 15mph
Maximum range: 17 miles
Weight: 15.1kg
Hill-climb test: It just managed to crawl up a 12.5% incline, but it can't manage gradients steeper than that.
Our verdict: The Li-Fe is quite sluggish to accelerate and also struggles with hills. While it made it up a 12.5% incline, it would probably have been quicker to walk.
This electric scooter stopped in a short distance in our braking test, but a lot of this was down to the relatively sluggish speed it was travelling at the point we asked it to stop.
Additionally, it came out of its box with some loose bolts on the stem. This meant that after a few minutes of riding, the front wheel started to come out of alignment with the handlebars, which is potentially a serious safety risk.  To check that this isn't a recurring fault on all Li-Fe 250 Air Pro e-scooters, we bought another sample and checked the bolts. The second e-scooter we tested had no such issue.
But we'd recommend checking the tightness of the bolts before riding on this, and indeed any electric scooter.  We raised our concerns with Li-Fe, and it told us: 'While every effort is made to ensure our e-scooters arrive in perfect condition, bolts will occasionally need tightening after the initial use.
'Much like bicycles, we recommend this is done on regular intervals and for scooters we suggest that be every 5-10 hours of use. We will make this clearer in our instruction manuals as well as creating some short "how-to" videos for consumers to view on our website.'
Pure Air Pro (First Generation)
RRP: £379 
Maximum speed: 15.5mph
Maximum range: 31 miles
Weight: 16.7kg
Hill-climb test: Fail
Our verdict: This e-scooter is only suitable for flat areas, as in our test it struggled to make it up any slopes or hills.
The Pure Air Pro was the darling of our panel of ease-of-use testers, who gave it the highest rating for dampening vibrations on tarmac and gravel, the smoothness of its power delivery and also its manoeuvrability and stability.  But it's underpowered.
This e-scooter was left lagging behind in our acceleration tests, and it failed to make it up even the 12.5% gradient in our hill test.
Update November 2021: Since we tested this e-scooter, a second-generation version has been introduced that has a 500W motor, rather than the 350W motor on the e-scooter we tested.
Reid E4
RRP: £400 
Maximum speed: 15mph
Maximum range: 17 miles
Weight: 13.4kg
Hill climb test: It trudged up a 12.5% gradient, but failed on the 20% hill.
Our verdict: This is a light e-scooter compared with others, but we were unimpressed with the brakes and level of vibrations. The solid wheels, which make punctures a non-issue with this electric scooter, provide a bone-shuddering ride. The amount of vibration felt through the handlebars on rough tarmac, gravel or wooded paths is very unpleasant.
This e-scooter also has the least effective brakes of any we tested, screeching to a halt in the longest distance.  It also consistently skidded during our brake tests, and the longer wheelbase of this e-scooter led to some fishtailing during the skid, which is quite difficult to control.
It's average when it comes to acceleration over 30 or 60 metres, and it's hill climbing is nothing to write home about.
Segway Ninebot Max G30
RRP: £582 
Maximum speed: 15.5mph
Maximum range: 40 miles
Weight: 20.1kg
Hill-climb test: It can climb 12.5% comfortably, but ground to a halt when the gradient increased to 20%. 
Our verdict: Good braking system and comfortable to ride. Ride quality is where this e-scooter really comes into its own. It dampens vibrations well on rough tarmac, gravel or wooded paths. While this electric scooter doesn't have quite as much power as the Unagi, it's still fast and responsive and it wasn't too far behind the Unagi in our acceleration test.
Despite its colossal weight (20.1kg), it managed our 1:8 (12.5%) test hill quite comfortably, but failed to make it up any gradients steeper than this.
The Segway does, however, have a very refined braking system.  Considering this e-scooter is weighty and quick, we were very impressed that it managed to stop close to the shortest distance of any of the scooters we tested (5.5 metres). It also does this with an intelligent braking system that doesn't allow you to skid, so you can stop quickly and safely.
Unagi Model One E500
RRP: £649 
Maximum speed: 15mph
Maximum range: 15.5 miles
Weight: 13kg
Hill-climb test: This was the only scooter in our tests to climb a 25% gradient.
Our verdict: It's the only e-scooter that made it all the way up our test hill, which ended with a 1:4 gradient, but the ride is bumpy. Despite its sleek and delicate appearance, the Unagi was the fastest electric scooter in both our 30-metre and 60-metre acceleration test. It also stopped on a dime – without skidding.
Most of the electric scooters we tested skid when you slam on the brakes in an emergency stop, which can be difficult to control.
But the Unagi's intelligent braking system stops this scooter from top speed in a little over 6 metres. Some of the e-scooters we tested took almost a metre and a half more to stop, and left a long fishtail skid behind them.  At 13kg, it's one of the lightest e-scooters we tested.
The Unagi folds down easily and is manoeuvrable, too. If you're sensible with the settings you use, it has a decent 15.5-mile range.
However, the solid tyres (that prevent punctures) make the ride very bumpy on anything other than smooth terrain. The ride is also very harsh and unforgiving.

Xiaomi Mi Essential
RRP: £349.99 
Maximum speed: 12.4mph
Maximum range: 12.4 miles
Weight: 12.4kg
Hill-climb test: Fail
Our verdict: Prone to skidding and can't cope with slopes.  The Xiaomi Mi Essential is one of the most popular electric scooters, but based on our tests it's difficult to see why.  It's very underpowered and its performance on our test hill was pathetic, barely covering any distance at all on a 12.5% gradient.
It was also last in both our 30-metre and 60-metre acceleration test.  It did stop in the shortest distance of any of the e-scooters we tested, but this is largely due to its overall lower top speed.
It also skidded to a stop, which isn't ideal.  We found the e-scooter pretty comfortable to ride – it's good at dampening vibrations on a variety of surfaces, and it's fairly manoeuvrable at low speeds.
It could be a decent choice to use on flat private land, but based on its performance on our test hill, its use in even moderately rolling terrain is severely limited.
Xiaomi Pro 2
RRP: £499 
Maximum speed: 15.5mph
Maximum range: 28 miles
Weight: 14.4kg
Hill-climb test: It trudged up a 12.5% gradient, but failed on 20%.
 Our verdict: The Xiaomi Pro 2 is certainly a step up from the Xiaomi Essential, but it's in the middle of the pack compared with the other scooters on test and it can skid easily.
It's manoeuvrable and it dampens road vibrations well, but it's a couple of seconds behind the best over 60 metres. And although it did make it up a 12.5% gradient, it did so at a crawl.
The brakes are good and stop the scooter quickly, but it does skid, which isn't ideal if you're not a confident rider.
Electric scooters compared
How much do electric scooters cost?
How much you need to pay will depend on what electric scooter features are important to you. You can pick up a very basic adult model for £250. However, these will usually have limited on-board controls, a less durable frame and minimal suspension.
High-end models can soar beyond the £1,000 mark. At this price, electric scooters will be able to travel a far greater distance between charges. All the electric scooters we tested cost between £300 and £900.

How do you charge electric scooters and how much does it cost?
If the battery on an electric scooter is running low, there will probably be an indicator located near the handlebars that alerts you to the problem. How long it takes to charge the battery varies depending on what model you have. Some electric scooters can be fully charged in less than five hours, while others will take a full working day.
Make sure you research charging times before you settle on a specific model. The type of battery an electric scooter uses can affect charging times:
Lithium-ion batteries charge quickly and are reasonably lightweight (usually lighter than lead-acid batteries), making them easier to carry around.
Lead-acid batteries take far longer to charge. Compared with Lithium-ion batteries they cost less upfront, but have a shorter lifespan. In most cases, charging your electric scooter is as simple as plugging in a cable and turning the power on at the mains.
You'll usually find the charging port somewhere on the base of the scooter, but if you're unsure, check the user manual or the manufacturer's website. If your electric scooter comes with a removable battery, the process can be a little fiddly.
Removable batteries are usually found somewhere on the underside of the deck, and you'll probably need a screwdriver to get access to the component. Once you manage to remove the battery, you can charge it at home or in the office without taking the whole scooter with you.
How to calculate the cost
To find out how much money you'll spend on charging, you need to know the size of the battery and the cost of your electricity. Let's use the Ninebot KickScooter MAX G30 for our example.
This has a 551 Wh battery. The average rate for electricity in the UK is 18.75p per kWh, based on the standard variable tariffs of the biggest 10 firms.
We divide 551 by 1,000 to find the Ninebot's battery size in kilowatts – this gives us 0.551 kWh. Then we multiply that figure by the electricity price (18.75). This tells us that, based on the average electricity price in the UK, it would cost around 10.3p to fully charge the Ninebot KickScooter Max G30.
Based on the manufacturer's range claim, this means it will cost you around 10p, on average, to travel 40.4 miles.
Making your e-scooter battery last
Use our top tips to make sure you're getting the most from your electric scooter battery: Charge the battery at every chance you get – don't wait for the battery to drain entirely before you plug it in again.  When your scooter needs a charge, use the same cable (with the same current output) that came with it when you first bought it.
If you lose the cable, don't be tempted to grab a cheaper third-party alternative – this can be harmful to the battery, as voltages will vary between products. If you're charging a removable battery, make sure it's away from direct sunlight.
Turn off the power socket before you take a removable battery from its charging case.
How we test electric scooters
At the time of writing you're not allowed to ride electric scooters legally on the roads or on the pavement. You need to have the permission of the landowner if you want to ride them anywhere.
This presented us with a bit of a challenge when it came to testing them. So we arranged to test them at the birthplace of British motorsport: Brooklands Transport Museum in Surrey.
For the hill climb, acceleration and braking tests described below, the researcher conducting the test wore a weighted backpack to bring them up to the weight of an average UK male (83.6kg), as we wanted to give each scooter a decent but fair weight challenge.
Each of the tests was completed three times and an average taken.  The remaining tests were conducted by a panel of five researchers who individually rated each scooter for manoeuvrability, ride comfort, power delivery, folding and carrying, and more.
We bought all the electric scooters we tested ourselves, just as you would as a consumer.
Hill-climb test
We made use of the famous graded test hill at Brooklands, which goes up in gradients of 12.5%, 20%, and finally 25% at the very top. The same test rider took a short run up and was timed to see how long it took the scooter to clear the first gradient of 12.5%. We then observed whether the scooter could complete the test hill, or if it faltered on one of the steeper gradients.
In this test two out of 10 scooters failed to clear even the 12.5% section, six failed on the 20% gradient, and only one could complete the 25% gradient.
It's worth noting that particularly when climbing, power-to-weight ratio is a big factor. So if you're lighter than an average UK male (83.6kg), you might get slightly better results than we did in our tests.
Regardless of how much you weigh, our test results will give you the best idea of which scooters can climb, and which ones can't.
Acceleration tests
Each scooter was timed accelerating from a standing start to a point 30 metres away. We then repeated this test to 60 metres. Over 60 metres, the most sluggish electric scooter arrived 4.5 seconds after the first.
Braking test
A tester rode each scooter at full speed up to a braking point and then performed an emergency stop. We recorded the distance it took the scooter to stop, as well as whether the scooter skidded while it stopped and how easy the skid was to control.
There was a difference of almost 4 metres between the shortest and longest distance it took to stop the scooters.
Manoeuvrability test
Our panel of five researchers took each scooter for a ride around a circuit that included a sweeping right and left turn, a tight hairpin, a long straight and a cone slalom.  We rated each scooter individually for manoeuvrability.
Ride comfort
As well as riding around our test circuit, our panel rode each scooter over rough tarmac, gravel and on a wooded path.  After riding on this wide variety of surfaces, we rated each scooter for ride comfort, road vibration and stability.
Power delivery
Our panel put each scooter on its standard and highest power setting, and rated each for how quickly, smoothly and consistently the power was delivered to the scooter's wheels.  Some electric scooters have a significant delay when you press the accelerator before the power kicks in, and others can deliver so much power in surges that it leads to wheelspin.
Folding and carrying
Our panel spent time folding each scooter and carrying it a short distance. The heaviest we tested was more than 24kg – that's equivalent to two Brompton bikes.