Sowing tender veg, weeding, and feeding spring bulbs are just a few of April's jobs
April sees longer days and hopefully warmer temperatures. Spring bulbs bring welcome colour to borders and pots and the veg garden starts to fill up with new plantings. There's plenty to do to get your garden in shape ready for summer.
Gardening maintenance for April
Cut your lawn
As grass starts to grow, it will need to be cut regularly again. Put the mower blades on the highest setting so you don't scalp the turf, and give weeds and moss a chance to grow. Gradually reduce the blade height over the coming weeks. The grass clippings can go on the compost heap as long as you haven't used a weedkiller. To help them rot down quickly, put in a spadeful of soil or a product called Complete Rot, as both of these worked well in our trial.
Weeding
Weeds will start to emerge in spring so you can catch them while they're still small if you're vigilant. It's a good idea to remove them by hand so you can get rid of all the roots. Hoeing works best in dry weather so the weeds can desiccate after you cut them off.
Clean your patio
April can bring some surprisingly warm and sunny days, which is perfect for enjoying an outdoor meal. Make sure you're ready by cleaning your patio with a stiff broom and hose or a pressure washer. Give your garden furniture a scrub at the same time to remove any algae. Wooden furniture can be treated with oil or wood stain.
Plant potatoes
Early varieties were planted in March in milder areas, but all types can be planted in April. Put the tubers 40cm apart in rows that are 60-75cm apart. They need to go in about 15-25cm deep. Cover the shoots with soil as they emerge ('earthing up'). This will protect the foliage from frost and help stop light reaching the tubers as they grow, which would turn them green. Learn how to grow potatoes
Cover newly planted veg
Get veg off to a great start by covering it with fleece, Thermacrop or a cloche. It will help keep off cold winds and will trap the warmth of the sun near the plants. If you're using fleece, make sure it's a heavyweight one (30-50gsm) as it's less likely to rip. Hold it down by putting bricks or large stones around the edges.
Sow tender veg
From mid-April, it's time to sow many tender veg indoors. Don't be tempted to sow any earlier or your plants will be ready before it's safe to plant them outdoors. Cucumbers, basil, courgette, squash, sweetcorn and tomatoes for growing outdoors can all be sown. Don't sow beans until May.
Plants-and-flowers jobs for April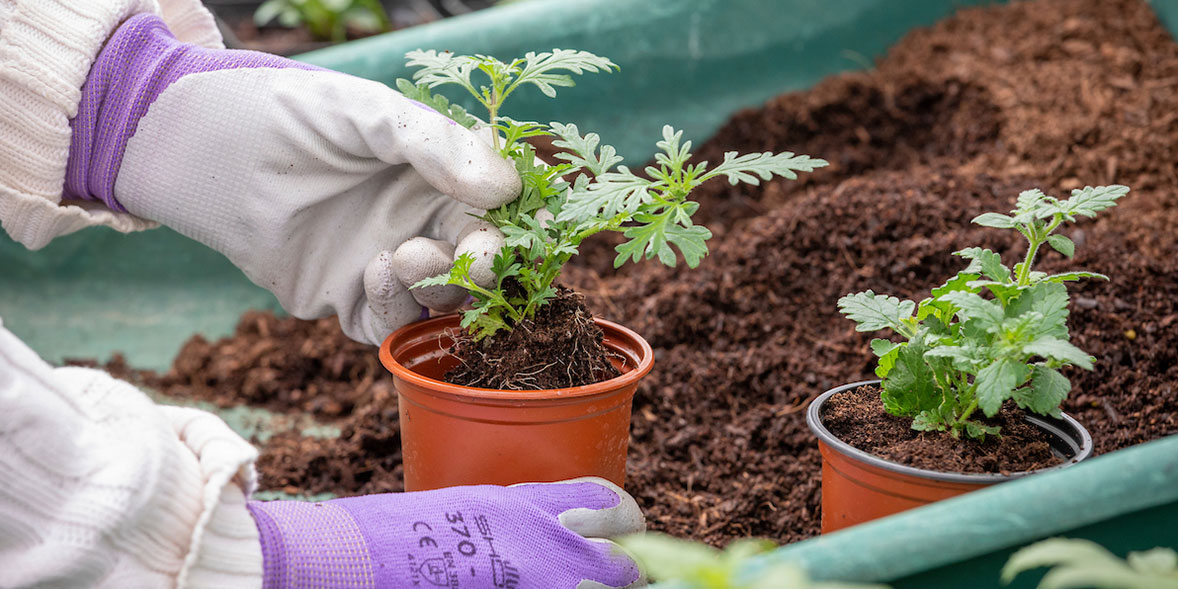 Start off summer bedding plants
In April, start off half-hardy annuals, such as cosmos, marigolds and zinnias, from seeds for colour in summer. Alternatively buy plug plants online and pot them up in a Best Buy compost for raising young plants. If plants arrive in the post, take them out of the box straight away so they're exposed to light. Discover our Best Buy compost for raising young plants
Feed spring bulbs
Feeding makes a real difference to how well bulbs flower the following year. Use a tomato feed and never cut back the leaves until they turn brown naturally.
Plant sweet peas
Sweet peas that were sown this spring or bought from the garden centre can be planted out in a sunny spot. Give your plants a support to grow up, such as bamboo canes or a willow obelisk. Tie in the plants to help them get going. After a few weeks, they will attach themselves with their tendrils.
Take dahlia cuttings
Dahlia tubers that were potted up earlier on should have started to grow shoots. Alternatively you can buy a potted plant from the garden centre. You can use a few of these to make new plants by taking basal cuttings – leave about five shoots on the tuber so it still makes a good plant for the garden. Remove the bottom leaves before inserting it in a pot of a Best Buy compost for raising young plants.  Learn how to grow dahlias
Plant summer-flowering bulbs
Look forward to some extra colour by planting galtonia, gladioli and other summer-flowering bulbs.
Stake perennials
As perennials begin to grow, put in stakes to avoid the stems being damaged. You can buy ready-made plant supports or make your own, such as pea sticks. Keep tying in your plants as they grow.
Care for camellias
Use an ericaceous feed and gently hoe it into the surface of the soil. If plants are growing in containers, remove the top few centimetres of compost, and replace with fresh ericaceous compost and controlled-release feed for ericaceous plants.  Remove any weeds around your plant and cover the bare soil with a mulch, such as garden compost or well-rotted manure.
This will help to conserve moisture in the soil. Most camellias just need a light prune after flowering to keep them in shape. Overgrown plants can be cut back hard if needed. They will send up new shoots from the base. You'll miss flowering for a few years, but they will recover.