We guide you through what to think about when buying a gas fire or stove, the features to look out for and how to get it installed
Considering a fire or stove? Read on to find out about the different types of gas fire or stove, including how much you can expect to pay, plus their advantages and disadvantages.
How efficient are gas fires and stoves?
Gas fires and stoves can provide heat efficiencies of up to 90% and outputs of up to 6kW, according to the Heating and Hotwater Industry Council. In practice, efficiency varies depending on the style of the appliance. Inset glass-fronted models tend to be the most efficient as they're more enclosed. This means less of the heat escapes into the chimney or flue and more is concentrated through the glass into the room. Retailers usually provide an energy efficiency rating as a percentage, as well as an energy performance certificate (EPC) rating. Look for these ratings when shopping for a gas fire or stove.
Are gas stoves bad for the environment?
As we mentioned, there are some very efficient gas fires and stoves on the market. However, the energy comes from burning fossil fuel – a non-renewable energy source. In addition, burning gas can release nitrogen dioxide, so using a gas stove contributes to air pollution.  Nitrogen dioxide is a major source of air pollution, and comes from vehicles and power stations as well as heating. High levels of nitrogen dioxide can irritate and inflame the lining of our airways, lead to coughing and difficulty breathing and cause flare-ups in sufferers of asthma and COPD. Children and older people are most likely to be impacted.
What to consider when buying a gas fire or stove
You don't necessarily need a chimney or flue in your home, as long as you choose a model that can be used without a conventional flue. If you don't have a mains gas connection, you still have the option of buying a fire or stove that uses liquid petroleum gas (LPG), although there are fewer of these available.
Work out which type of chimney or flue you have
The first thing you need to do is find out which type of chimney or flue you have: a traditional chimney, a pre-fabricated flue or a pre-cast flue. You'll need to make sure you buy a fire or stove that's compatible.
If you don't have a chimney or flue, as instead you could opt for a flueless gas stove or fire. Or you could choose a 'balanced flue' appliance, which comes with its own flue that's vented through an external wall. But this means you have to place your stove or fire against an external-facing wall, and create a hole in it for the flue. If you're unsure which type of chimney you have, or whether a flueless model is right for your home, consult an installer or retailer for professional advice.
Decide whether your fire or stove will be 'outset' or 'inset'
There are two ways your appliance can be installed.
Outset models protrude from the wall or fireplace. They can sit on the hearth or be wall mounted if you don't have a fireplace.
Inset models sit inside the fireplace, which helps to save space and can create a more contemporary style. A 'hole in the wall' fire goes a step further, sitting within the chimney breast, so it doesn't need a traditional fireplace at all.
Work out what heat output you need
Your fire or stove will only be able to heat the room it's installed in. So to get the best value out of it, make sure you've got the right output for your room. If the output is too low, your fire or stove won't keep you warm enough. If it's too powerful, you'll always have to run it at a low temperature, which will be inefficient and could waste money. The output will be measured in kilowatts (kW). Approximately speaking, to make your room 21°C when it's 1°C outside, you'll need 1kW of heat output for every 14 cubic metres of space. As a rough guide, multiply the height, width and length of the room in metres, then divide this by 14. You can use our tool below to give you an idea.
However, this is only a rough figure for an average home. Other factors can affect the output you'll need, such as the level of insulation in your home and the number and size of any windows in the room. If you're unsure about the wattage you need, consult an installer or retailer for more tailored advice about what suits your property.
For fires, choose between glass fronted or open front
There are two main types of fire:
glass fronted or open front. And they pretty much do what it says on the tin. Glass-fronted models have a fixed glass panel in front of the flames. They're usually more efficient because they're more enclosed and concentrate the heat through the glass into the room. But they can be high maintenance, as you'll need to remove and clean the glass every now and again to keep it looking its best. Light reflecting on the glass could also prevent you from seeing the flame effect clearly.
Open-fronted fires can have a more realistic appearance and are generally cheaper to buy upfront. But they tend to be less efficient than glass-fronted models, so they can have higher running costs over time.
Gas fire and stove styles
Your gas fire or stove is likely to be a focal point in your room, as well as a source of heat, so it's important to choose a model that will suit the style of your home. A modern 'hole in the wall' gas fire probably won't strike the right note if you live in a period property full of original features and vintage furniture. And a traditional outset fire is likely to stick out like a sore thumb in a contemporary, minimalist home. Look at our gallery to see examples of some of the different styles on the market.
Gas fire or stove?
Features and standards to look out for
There are several features to look out for when buying your gas fire or stove. These include:
Remote controls or easy-access control panels (on the top or side of the appliance). Both will save you constantly bending down to adjust the heat, so would be particularly helpful if you have limited mobility. Recent models also include a thermostat function which will help you to control the room temperature more efficiently.
Different 'fuel beds' such as logs, coal or stones, which appear to be burning when the fire is on. With some models, you'll be able to choose which fuel bed you want when ordering.
Oxygen depletion sensors, designed to automatically switch off the gas supply if oxygen levels drop, to avoid producing dangerous levels of carbon monoxide.
A CE mark, which should be on all gas appliances to show they've met European safety and efficiency standards. The CE mark is being replaced with the UKCA (UK Conformity Assessed) marking. This marking is used for goods being placed on the market in Great Britain (England, Wales and Scotland). It will be mandatory from January 2023.
How much is a gas fire or stove?
Prices for gas fires and stoves vary widely, from less than £200 for basic models to several thousand pounds for stylish 'hole in the wall' fires and large contemporary stoves. Factors such as size, efficiency and style all play a part in determining the price. As with so many things in life, you'll generally have to pay more for the biggest, most efficient and trendier models. Prices also vary between retailers, so it's worth shopping around to get good value. To keep costs down, try shopping in summer when demand is lower, or in autumn for start-of-season sales. Gas fires and stoves are generally more expensive than their electric counterparts (when comparing like-for-like models). But gas appliances should have lower running costs in the long-term because of the lower cost of using gas to heat your home.
Maintaining your gas fire or stove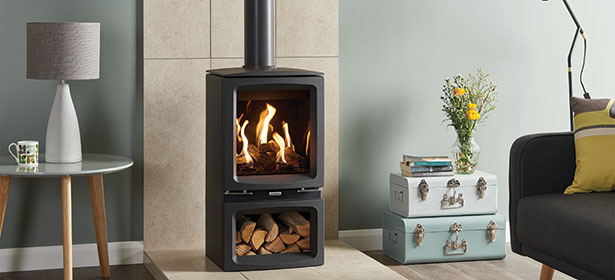 As with all gas appliances, you should get a qualified Gas Safe engineer to check your fire or stove every year to make sure it's safe to use. If you're using a chimney or flue, get it cleaned regularly to make sure it's kept clear of blockages. Ideally, this should be done once or twice a year, depending on how many months of the year you're using your gas fire for. You should schedule one of these cleans to take place in late summer or early autumn before you first start using your fire or stove.