Discover how to choose the best binoculars, and how to use them while you're out and about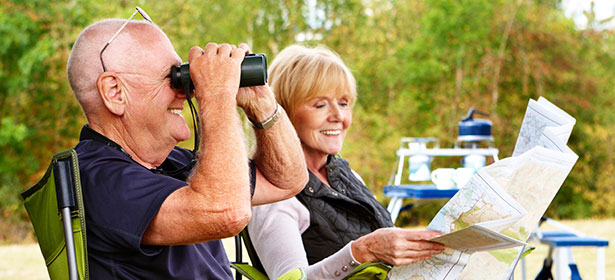 Pick the right pair of binoculars and they should last you a long time, whether you're using them for wildlife viewing or for a closer look at starry skies. Read our expert guide if you want to find the perfect binoculars for you. Choosing binoculars is far easier once you understand the main features and how they impact on performance. Buying the first pair you see online could leave you with flimsy binoculars that are let down by imperfect lenses, greatly limiting your view of what's in front of you. But fear not, we're here to help. In our expert guide, we explain how to shop for the most suitable pair. We'll tell you the key features to look out for, where to buy and how to use them effectively, whether in glorious sunshine or on a dimly lit evening.
Questions to consider before buying a pair of binoculars Let's get started with the basics.
You can make your binocular search easier by considering what you'll be using them for. Do you want to look at one thing, such as a bird in flight, or watch several things simultaneously, such as horses at a race track? In the first case, magnification is more important than the field of view, and vice versa for the latter.
At what time of the day will you use your binoculars?
If you plan to use your binoculars at sunrise or sunset, then the objective lens diameter, exit pupil and light transmission are all important. The objective lens diameter is the measurement of the lenses at the end of the binoculars. A larger objective lens diameter lets in more light, making the image appear brighter (all other factors being equal). The exit pupil tells you how much light is sent to your eye through the binoculars and is calculated by dividing the size of the objective lens by the magnification. The light-transmission measurement will tell you what percentage of light reaches the eye after entering the binoculars. The lens coatings used can help reduce the amount of reflected light and increase the amount that reaches the eye. This helps improve the brightness and clarity of the image. Compared with standard-sized binoculars, compact pairs have a smaller objective lens diameter and exit-pupil measurement, so tend to work best in brighter daylight conditions. These factors may be particularly important if you plan to use them for birdwatching at dawn or dusk, and should be considered in combination.
Do the binoculars need to be lightweight and compact?
If you plan to use your binoculars while out and about, it's important to consider their size and weight. If you need to carry them over long distances, a lighter, compact pair might be preferable. Compact binoculars can also have the added benefit of fitting into a coat or jacket pocket. Don't forget to check the weight of the carrying case, too, as this will affect the overall weight. While on the move, neck straps are a handy accessory for quickly and securely picking up and putting down your binoculars in between uses. Some armoured models can provide additional protection, and rugged armour can also make them easier to grip.
Types of binoculars
There are two main types of design: roof prism and porro prism. Each type differs in the way the prisms channel light through the binoculars to your eyes. You can tell these apart based on the shape of the binoculars.
Roof prism binoculars
These have an H-shaped design, where the eyepiece and the binocular tubes are in a single, straight line. Roof prism binoculars are the more modern of the two types and generally tend to be more compact, which is good news if you're planning on taking them while travelling. But expect to pay slightly more for improved durability and a lightweight design. Roof prism binoculars are usually pricier than porro prism pairs, so bear that in mind when shopping around.
Porro prism binoculars
These have a traditional M-shaped design, where the eyepiece and the lens are not in line. In the middle of the binoculars you'll spot a mechanism that can be turned to slightly alter the position of the tubes. These binoculars are a step up from roof prism binoculars in terms of clarity, but they're also far bulkier, so you may dread carrying them around on a hike through the mountains.
Binocular features to look out for
Binocular numbers
Nearly all binoculars will have two numbers written on their casing like this: 8×25 or 10×50. You can see an example in the image below.
But what do those numbers actually mean? Well, the first number is the binoculars' magnification. This tells you how many times larger an image will appear compared with that seen by the naked eye. A magnification of 8x means that the object you observe with binoculars will appear eight times closer than it does in the real world. When watching sport, a wider 'field of view' is more useful than strong magnification. For horse racing, for instance, a wide view of the action is a lot more useful than a close-up of a horse's head. If you aim to use the binoculars without a tripod, then models with an 8x magnification are generally easier to hold steady than those with a larger magnification.
Waterproof binoculars
If you plan to use your binoculars outside, then you may want to consider a waterproof pair. This will keep the inner mechanics protected from an unexpected downpour and prevent any water getting in.
Tripod mounts for binoculars
Binoculars with a high magnification (anything from 10x upwards) can be harder to hold steady without the use of a tripod. Many standard-sized pairs have a tripod mount built in, or will be labelled 'tripod adaptable'. If you'll need to use a tripod, always check your binoculars are adaptable or already include a mount. If you're considering a pair of high-magnification binoculars, it's best to try them out before you buy. This way you can see if your hands are steady enough to use them without needing a tripod. Shop around and you'll have no trouble finding a tripod for less than £40.
Can you use binoculars with glasses?
The binoculars' eye relief tells you the furthest distance your eye can be from the eyepiece and still see the whole field of view. If you wear glasses, look for eye relief of more than 14mm, or 17mm for thick glasses. Most binoculars have sliding eyecups or rubber eyepieces that can be rolled back, allowing the eye to sit closer to the lens. It's best to try a number of pairs while wearing your glasses before buying.
Where to buy binoculars
When shopping online, make sure you're handing over your money to a reputable seller. You can shop smart by checking the retailer's returns policy and also have a look at some customer reviews. Our advice guide on online shopping has more details. Popular retailers that stock binoculars include: Amazon stocks a wide range of binoculars, including waterproof binoculars and those for children. Prices start from around £25 and rise beyond £500 for specialised equipment. Big-name brands include Celestron, Nikon and Olympus. Argos stocks around 10 pairs of binoculars. Prices range from around £25 to £100, and cover Celestron, Nikon and Olympus. Currys PC World has a varied mix of binoculars on its website from the likes of Canon, Nikon and Praktica. Expect to spend anywhere between £25 and £1,500. Jessops is one of the best-known camera retailers in the UK. Its list of binoculars includes models from Celestron, Pentax and Steiner. Prices run from around £15 to £500. John Lewis stocks binoculars made by Nikon and Olympus. You'll find a varied mix of both roof prism and porro prism binoculars. Prices start at £7.50 (for binoculars for kids) and leap up to £1,000. Discover which retailers are rated highly by Which? members with our expert guide on the best and worst shops.
Popular binoculars from major retailers
We don't currently test binoculars at Which?, but our research identified Amazon, Argos, Currys PC World, Jessops and John Lewis as the most popular retailers selling binoculars. We contacted these retailers for a list of recommendations and received a response from Amazon and John Lewis in time for our deadline – listed below are their recommendations. We'll add more products to our list as we hear back from other retailers. Popular binoculars gallery
How to focus binoculars
To see the best possible image, it's essential to focus your binoculars properly. Most  have a central focusing wheel and a dioptre adjustment for focusing images. The dioptre adjustment is an important feature, as it compensates for the differences between the strength of your eyes. This feature can often go unnoticed by novice users who aren't certain what it does. Follow these five easy steps and you'll get the best image possible:
1. Move the central hinge
Look through your binoculars at a plain scene, such as grass or sky, and move the central hinge until you see a single bright circle.
2. Cover the right barrel
Cover the barrel that has the dioptre adjustment on its eyepiece. This is usually on the right-hand side.
3. Use the central focusing wheel
Look at a fixed object in the distance, then use the central focusing wheel to focus the binoculars until the image appears clear and sharp.
4. Cover the left barrel
While looking at the same image, cover the left barrel.
5. Use the dioptre adjustment
Use the dioptre adjustment on the right eyepiece to make the image appear clear and sharp.