Our expert guide to the best breakdown cover outlines how to get the right cover at the right price, for peace of mind whether you break down on your own driveway or miles from home
Getting the right breakdown cover isn't only about finding the best provider. You'll want to make sure you get the right level of cover for your needs, without having to pay through the nose.
For instance, did you know basic roadside assistance doesn't cover you within a quarter of a mile of your home?
So if your car refuses to start on a frosty winter morning, you may have to pay up to £109 on top of your regular breakdown cover just to be seen at home.
Our research shows that more people called breakdown services to their home than to any other location, so it's vital to get the right level of cover.
Types of car breakdown cover
You can get breakdown cover in several forms. Here are the basic types:
Third-party breakdown cover: You pay an annual fee. If your car breaks down, the provider will either attempt to fix your car at the side of the road, or tow you to a garage. The AA, RAC and Green Flag are the biggest and best-known third-party providers
Pay-and-claim breakdown cover: You still pay an annual fee, but it's typically a bit less. If your car breaks down, you have to pay for the roadside repair or recovery yourself, and then claim it back
Car manufacturer breakdown cover: If you buy a new car, it should come with free breakdown cover that's branded by the manufacturer. For instance, if you buy a Honda you get free three-year breakdown cover from Honda Breakdown Assist. The actual service is supplied by a third-party provider (the AA, in the case of Honda)
Breakdown cover packaged with bank accounts or car insurance: You can get car breakdown cover bundled in with your packaged bank account or car insurance (see our guide on how to get cheap car insurance quotes). For example Nationwide's packaged account comes with breakdown cover supplied by LV Britannia, and NFU Mutual car insurance comes with breakdown cover supplied by the RAC. Pay-and-claim cover seems to be disappearing.
Only one out of the 12 third-party providers we've rated this year offers a pay-and-claim option – GEM Motoring Assist. At the time of writing, it would save you just £18 a year compared to regular cover. You can see how GEM Motoring Assist compares with the other breakdown services we've rated – see our best breakdown cover providers.
Car breakdown cover levels: is basic cover enough?

Many people get their breakdown cover through third-party providers. Many of these offer several levels of cover. What the companies call these levels will vary, but here are the main four:
1. Roadside assistance
(the most basic cover) A breakdown van will come out to you and will either fix your car on the spot, or tow to you to the closest garage. Most policies will have a recovery limit of 10-15 miles from the scene of the breakdown.  Bear in minds that if you break down within a quarter of a mile of your home (or a full mile if you're with Allianz, Autoaid, AXA or Start Rescue), you won't be able to call your provider out if you only have basic roadside assistance.
2. Home cover
(extends basic roadside assistance to cover you at home) This can sometimes (though not always) be a pricey addition to basic cover, but our research has revealed that more people call out a breakdown service when they're at home compared with any other single location.  If you need to upgrade your cover from basic to home cover in an emergency, the cost can be up to £109 and will include a one-off 'pay-on-use' fee.
3. National recovery
(towed to any destination in the UK) You and your passengers will get a tow to your chosen destination anywhere in the UK (including your home, if you wish), or the closest garage to your destination. If you only have roadside assistance, you'll be towed to a local garage.
4. European cover
If you're travelling on the continent and your car breaks down, this will cover you for any roadside repairs or a tow to a local garage. If you don't already have this cover, most UK providers won't be able to offer you any assistance once you're abroad, so make sure you take out European cover before you leave the UK.
Otherwise you'll be left to organise assistance yourself from a local recovery service, and will be stuck with towing and repair charges. Annual and single-trip cover is available from most providers, but be sure to check the country you're travelling is listed as a covered destination.
Best car breakdown cover features to look out for
Personal cover 
Regardless of whether you are the passenger or the driver, personal cover means you can call out a breakdown service for any car you happen to be in (as opposed to vehicle-level cover, which applies to a specific car). This might useful if you have several vehicles, or regularly get lifts from someone else (you could even use it as a bargaining chip to get upgraded from rear seat to front passenger seat).
Most, though not all, providers offer personal cover as a choice when you get a quote, and it tends to be a little more expensive then vehicle-level cover.
Callout limits
While some providers offer unlimited callouts with their breakdown cover, others will limit the number of times they will assist you if your car breaks down. We've found basic roadside assistance policies that allow for as few as two or three callouts per year while even some comprehensive polices will only provide assistance five times.
Onward travel
Generally included with more comprehensive policies, this covers you for a hire car, overnight accommodation or costs towards taxis and public transport if a breakdown provider fix your vehicle straight away. Some providers include this as standard; with others, it's an optional extra.
Misfuelling
Putting the wrong type of fuel in your car can cause serious damage to your engine, while draining and flushing the system can cost between £150 and £300. We found that less than a quarter of the policies we looked at will cover you for this, and even then you could be charged as much as £225 for the privilege.
Transporting pets
If your dog is a frequent passenger in your car, check the breakdown policy's small print before you buy. While most providers say they will still cover you if you break down with a pet in tow, transporting the animal will generally be at the discretion of the patrol mechanic who attends and at the owner's own risk.
If the patrol mechanic is unwilling to let your pet into the cab, or there simply isn't enough room, they will either need to be towed in your vehicle or you may have to organise alternative transport yourself.
How much does car breakdown cover cost?
 AA £59 
Admiral £44.95 
 Allianz Assistance £36.50 
Asda £27
Autoaid £59.99
Aviva £38.64 
Axa £19.99 
GEM Motoring Assist 
Green Flag £24.64
LV Britannia Rescue £30
RAC £95
Saga  £39.99
Is breakdown cover worth having?

In short, yes – especially if you own a less reliable car. You can find out if your car is fault-prone in our guide to the most reliable cars.  If you need to call a breakdown service and have no cover at all, it could cost you hundreds of pounds.
And while it might be tempting to save money upfront by just getting basic cover, you could have to pay out large sums of money if you break down on your driveway (the most likely location for you to need to call out a breakdown service), or far away from home.
Where do cars break down?
At home  47%
In town  26%
Rural area / out of town  15%
Motorway/dual carriageway  12%
How much does it cost to buy cover in an emergency?
We've asked leading car breakdown providers how much it would cost to call out a recovery vehicle in three different situations, whether you have basic cover, or no cover at all.
Usually, these charges include the cost of joining, plus an additional 'emergency call-out' fee. This can make the costs much higher than simply opting for more comprehensive cover in the first place..COM
How to cut the cost of breakdown cover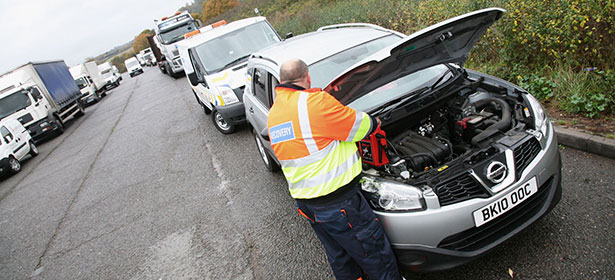 Shop around for breakdown cover
Use our best breakdown cover results to put together a shortlist of companies Consider your needs and choose an appropriate level of service Compare prices online or give the companies a call. If you've found a cheaper quote elsewhere, speak to your preferred provider and see if it will meet the quote or beat it (take a look at our haggling tips, below).
Go beyond the big three
The AA, RAC and Green Flag have the largest market share of everyone we survey, but our results show that other companies can provide top-quality service – often at a lower price.
Don't pay monthly
If you can afford it, you can cut your costs by paying annually instead of monthly. Both the AA and RAC websites default to showing monthly payments, but you can save if you choose to pay annually:
Get free or cheap breakdown cover as part of your car insurance or packaged bank account
Car insurance add-ons
Try finding a car insurance policy that offers a breakdown add-on from a company you like, assuming the car insurance deal itself is right.  If you choose to get NFU Mutual car insurance, for example, you'll get free basic breakdown cover from the RAC. It will cost £35 if you want home cover as well (and we recommend this), and includes national recovery. That's a saving of £115, compared with RAC's standalone cover.
Packaged bank account
Nationwide Flexplus is our highest-rated packaged bank account. It costs £13 a month, or £156 a year.  You'll get worldwide travel insurance with winter sports, mobile phone cover up to £1,500, plus UK and European breakdown recovery from LV Britannia Rescue (which charges £142 for standalone European breakdown cover). The value of fee-charging bank accounts is questionable. But if you're planning on driving your car to Europe, perhaps with skis in the boot to take advantage of that winter sport insurance, this account could be worth considering. Find out more about bank accounts.
Buying a new car in the next year?
If you're thinking about getting a new car in the next year, question any existing third-party breakdown provider at renewal time (but before you actually renew) to find out what its cancellation/refund policy is. You'll get free cover from your new car's manufacturer, so will want to avoid doubling up on cover.  Typically you get a pro-rata refund based on how much time you've got left on your current agreement, but not always. Sometimes the pro-rata refund comes with an admin charge. If you've made a claim in the year your cover applies to, you might not be entitled to a refund, and some companies don't offer a refund regardless. There is a 14-day cooling-off period for all new policies. So if you choose to cancel within 14 days of setting up or renewing a policy, you should get a full refund. The AA is the only third-party provider in our survey that will let you freeze your policy and allow you to resume it at a later date when you need it again. Typically, you must interrupt your cover for a minimum of 90 days.
How to haggle for breakdown cover Car breakdown companies expect you to haggle.
It's generally cheaper for them to keep existing customers than to acquire new ones, so haggling is built into their pricing structures. In our 2021 car breakdown survey, we found that more than three quarters of respondents who haggled with their provider on renewal received a lower quote.
Most people still haggle over the phone. But if the fear of an awkward conversation is holding you back, then try live chat instead. This also means you get to keep a written record of what was said. We asked ex-salespeople and successful hagglers for their top haggling tips, which include:
Bringing up any issues you've had with the provider
Pointing out the length of time you've been a customer
Saying how often you've used the service.
Haggling made easy with our script
To make haggling easier, use our script to boost your chances of getting a better deal from an existing provider. 'I've received my renewal and would like to know why I'll be paying more this year.'
Wait for the response. It's likely the company will mention that new customers are often offered introductory prices.
'I've seen better deals from other providers than I'm currently getting with you.'
Wait and see what the call handler says. If they don't offer to reduce your premium, you can push a little harder.
'I can get a cheaper deal with [name of provider]. If you can't match or better it, I will cancel my policy with you.' If you're not happy with the deal you're offered, don't put up with it. There's no sense paying over the odds. Instead, use our research into car breakdown cover companies to help you find a good provider that's rated highly by its customers.
How to get a better service from your breakdown provider

Use the breakdown provider's app
Assuming you have a smartphone and can get a signal, using your breakdown cover company's app to arrange a callout has distinct advantages. The biggest is that it can tell your breakdown provider your exact location.
No more describing the lay-by you're in as 'by the tree, just after a bridge'. 15% of respondents to our 2021 survey used an app to report their breakdown – more than twice as many as in 2020.
Take photos
We've had complaints from people who say their vehicle was damaged while being towed, and the breakdown company denied responsibility.
You can try to avoid this by taking photos of your broken-down car, just like you would if you'd had an accident. Then, if further damage occurs during the tow, take photos of that as well. Be careful, though – only take photos if it's safe to do so.
Is car breakdown cover a legal requirement?
No. You're under no obligation to buy car breakdown cover. You can buy breakdown cover after breaking down, but it will cost you. Signing up at the scene of a breakdown if you have no cover at all invokes hefty charges – possibly in excess of £200, depending on your situation. You can also upgrade your cover on the spot if you only have basic roadside assistance and you break down at home, or need to be towed 100 miles or more to your destination.
European cover and Brexit
There's no evidence that Brexit has had any impact on breakdown cover in Europe, in terms of price or otherwise.  The bad news is that you must remember to get European breakdown cover before you leave the UK. Your provider may not be able to help you if you break down overseas without appropriate cover.
Companies may be able to provide existing customers with tailored quotes depending on their circumstances, or put them in touch with overseas partners. But if you're driving in Europe, you'll save yourself a lot of hassle and expense if you have European cover in place before you go.
You can typically buy annual or single-trip cover from car breakdown providers, so look into that before you travel.