This comprehensive buying guide for hot tubs includes information on the various kinds of hot tubs, as well as typical prices and dimensions, and our recommendations for the most popular hot tubs currently on sale.
For the locked down summer of 2020, a garden hot tub has quickly risen to the top of many people's wish lists as the ultimate luxury item. They can bring a variety of health benefits and hours of at-home relaxation, but if you are serious about making an investment in one, it is essential to choose the right type, select the ideal brand, and understand the costs that are associated with it. A freestanding tub filled with heated water and equipped with filtration and jets is the definition of a hot tub.
There is also a possibility that you will come across the terms "jacuzzi" and "spa." While most people think of a spa as a hot tub that is built into the ground and connected to a pool, a Jacuzzi is actually just a well-known brand name for a hot tub. A Jacuzzi is not a spa.
Utilize our in-depth guide to purchasing a hot tub to learn about the various options available to you in terms of type and brand, as well as the approximate cost of each option. In addition, we can provide you with information on how to rent a tub instead.
Buying a hot tub
When picking out your hot tub, you should give some thought to the amount of money you are willing to spend, the location where you intend to install it, and the features that are most important to you. First, decide on your budget.
Hot tubs that are more affordable are sometimes a good option; however, they are more likely to be inflatable and portable rather than a permanent fixture. If you spend more money, you will typically get a tub that is more durable and comes with additional jets that are more powerful as well as other fancy features.
Consideration should also be given to ongoing costs. A cost will be incurred for both the upkeep and the heating of a hot tub. How much that is will totally be determined by the kind of tub you have, how big it is, and how it is constructed.
When selecting your hot tub, space is another essential component to take into consideration. They can be quite cumbersome, and if you go with a hard-shell or wooden hot tub, it will be a fixture in your garden for the foreseeable future; inflatable models, on the other hand, can be disassembled and stored away. Further down on this page, you'll find more information on the standard dimensions, which are as follows: Learn more about the process of installing your hot tub, or scroll down for a list of popular brands of hot tubs.
Different kinds of hot tubs
Hot tubs with a solid outer shell
Spending typically ranges from £3,000 to £10,000.
These hot tubs have a hard base that they sit on, as well as side panels that are also solid. They will additionally be equipped with an interior heating system in addition to a selection of jets, lights, and pumps. Hard-shell tubs may also come equipped with additional luxuries, such as built-in sound systems, Wi-Fi connectivity, and full foam insulation, which helps to keep the heat in the tub and makes the tub more energy efficient.
These kinds of bathtubs are available in a wide range of materials, such as plastic, acrylic, wood, and even recycled materials like metal. The costs can vary greatly and are typically determined by the dimensions of the product as well as any additional options or features that are desired. It is also essential to keep in mind that these tubs will be permanent additions to your garden and will need to be installed on a ground that is both firm and level.
Pros
More durable
A more comprehensive range of capabilities
Insulated, allowing for use at any time of the year
Cons
More expensive
Not something that can be put away.
Costlier in terms of maintenance
Hot tubs that are inflatable
Spending typically ranges from £300 to £1,500.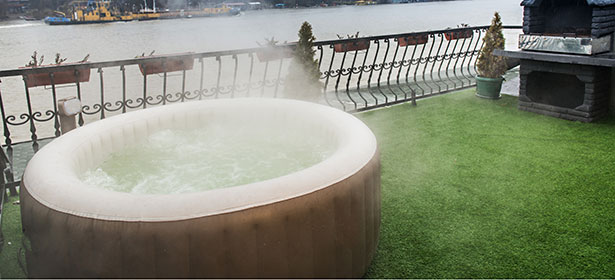 These are, more or less, exactly what they sound like; they are inflatable hot tubs that you fill with air. The water is heated by a heater located on the exterior of the spa, and an air blower is used to inflate the walls and power the jets.
They are typically circular in shape, and rather than seats, they feature a cushioned base that users can sit on. On some of the best inflatable hot tubs, the features aren't quite as flashy as they are on some of the more expensive models, but you can still get lights, head rests, and drink holders. In spite of the fact that these containers can be moved around with a fair amount of ease, you will still need to ensure that they are positioned on a stable and level base.
Pros
Budget friendly
Portable
Easier to maintain
Cons
Less durable
Lesser number of features
The vast majority cannot be utilised throughout the entire year.
Less space means fewer seats.
Hot tubs heated by wood fires
The average cost ranges from $1,500 to $8,000.
This is essentially a bathtub made of wood that can be installed permanently and that heats the water not with electricity but with a stove that burns logs. It shouldn't take more than four hours to heat up, but the exact time will vary depending on the size of the tub. Because of the way the water is heated, the temperature of the water cannot be maintained at a consistent level.
Because water that is warmer will float to the surface, and water that is cooler will sink to the bottom of the container, you will need to stir the water at regular intervals. The majority of them will not have jets, and the ones that do will be powered by electricity. As is the case with other kinds of hot tubs, it will need to be installed on ground that is both stable and level. However, you will also need to think about the location of the wood storage for the stove.
Pros
Durable
Can have lower operating costs.
Fewer chemicals are necessary.
Cons
It takes more effort to heat.
Not able to maintain a consistent temperature
Will need to make regular purchases of wood to keep the fire going.
In-ground or bespoke hot tubs are available.
The average cost is over six thousand pounds.
Spas are commonly referred to as in-ground or custom-built hot tubs. Despite the fact that they are simply a hot tub with jets, they will have a more unique, built-in feature. It's common for them to be either embedded in the ground or attached to a swimming pool.
The type of spa you select will be determined by your personal preferences. Swimming against a counter-current jet is one way to work out in a swim spa, while hydrotherapy tubs use jets to target specific medical concerns.
Make sure you don't need planning approval if you decide on an in-ground tub or one that is built into a structure. Even if you're not in a conservation area, it's a good idea to verify before you get started.
Sizes of hot tubs
Hot tubs with hard shells are typically available in three different designs and sizes:
Two to four This is a small 163cm – 213cm L x 163cm – 207cm W, 74cm to 89cm H size.
a group of 5 to 6 individuals With an overall height of 84.5cm – 98.5cm, this medium-sized mattress is ideal for those who are looking for something that's both comfortable and stylish.
There are at least 7 individuals involved. Large 213cm–274cm L x 213cm–280cm W x 91cm–97cm H
Before purchasing a tub, it's crucial to know that these proportions aren't set in stone, and many tub dimensions might vary by a few inches either way.
Other, less usual shapes and sizes are available from some manufacturers, such as round and corner tubs and extra-large variants that can accommodate up to nine people in total.
They don't have a defined set of sizes for inflatable and wood-fired hot tubs Instead, they usually classify them based on the number of seats available. From one to eight persons, this can be done.
Brands of hot tubs
Swim spas, whirlpool pools, and saunas are also available from the well-known Jacuzzi brand, in addition to hot tubs for two to nine people. Expect to shell out at least £4,000.
A popular brand of inflatable hot tubs is Lay-Z-Spa. Anywhere from two up to eight people can fit comfortably in an inflatable tub of any design or size. Around £450 is the starting price.
An American firm known for its inflatable hot tubs, Intex also sells pools, airbeds, and floats. You can get its containers from Aldi, Amazon, and a variety of other specialised merchants. Costs begin at about £300.
Hard-shell and inflatable hot tubs with a capacity of 2-7 persons are available in Canadian spa hot tubs. High-end models can cost upwards of £10,000, with prices starting at roughly £500. Tubs and parts are available on the company's website, as well as at brick-and-mortar retailers like Homebase and Argos.
One-stop shop for hard-shell hot tubs, swim spas, accessories, and maintenance components is provided by Happy Hot Tubs. However, the costs are considerable, ranging from £4,000 to more than £20,000 in some cases.
There are a number of high-street merchants selling Cleverspa hot tubs, such as Tesco, B&Q, Homebase and The Range. Around £250 is the starting price.
It is possible to purchase a tub with a marble effect from Wave hot tubs, which offers an assortment of eight inflatable hot tubs. Prices for a four-person tub start at $400 and go up to $800.
Authentic Swedish wood-fired hot tubs are made by Skarsgard, a small manufacturer in Sweden. There are three variants, each with two sizes and a price range of £2,000-£5,000 to choose between them.
Low-cost spas
Typically, the cheapest hot tubs are inflatable and start at around £200. Brand sites like Cleverspa, Intex, and Studio offer lower-priced models.
Tesco, Aldi, Lidl, and Argos are just a few of the larger supermarkets and high-street chains that have begun carrying hot tubs as well. If you're looking to save money and have a tub that you can deflate and store away, an inflatable tub is a great option. However, keep in mind that it won't be as durable as a traditional tub.
In order to get the most out of your money, you'll have to spend a little more. The majority of low-cost tubs are great for the summer, but they aren't well-insulated for the winter. Also, don't expect wi-fi, a plethora of jets, or fancy lighting in this model.
Hire a hot tub
Whether you're hosting a party, trying out a tub, or just looking for a relaxing weekend, you can always rent a hot tub. You can rent a spa for three to fourteen days from one of the many hot tub rental companies.
Inflatable, hard-shell, and wood-fired hot tubs are all readily available for rental. The cost of a long weekend in a hot tub varies depending on the type of tub and the length of your stay, but typically begins at around £200.
Deliveries, installation, cleaning on pick up as well as any chemicals needed for a rental should be included in the rental price. If you want a clean soak, make sure to keep the chemicals topped off.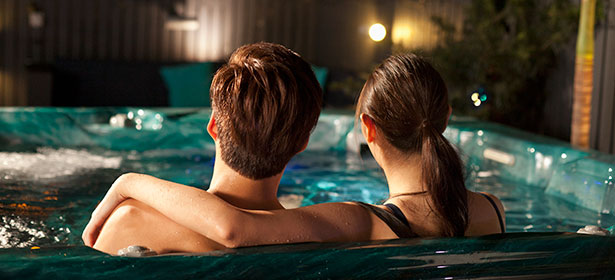 Features and accessories essential to a hot tub experience
Jets:
Each hot tub has its own unique configuration of jets, including the number, type, and location of each. More jets and more precise positioning are typically available at a higher price point.
Insulation:
Tubs that are better insulated will keep the water hotter for longer, saving energy. One of the best types of insulation is one that is made entirely of full-density polyurethane foam.
Steps:
will make it easier for you to enter and exit the tub safely. Cover lifters make it much easier to remove the cover and help protect the tub and cover from damage. Inflatable tubs may or may not have seats, depending on the model. You can purchase these items individually.
Head-rests:
Soft neck rests that can be used in both hard-shell and inflatable tubs are available. Side benches are designed to be attached to the inflatable tub's sidewall. Adding extra padding to your seats with the help of cushions.
A booster seat:
In cases where the seat is too low for a person of average height, a booster seat can raise them above the water.
Towel holder: a
to use next to the bathtub as a hook for your bathrobe or towel.
Lights:
a great choice for a nighttime swim. Hard-shell tubs should be equipped with lights as a standard feature; however, inflatable tubs will require an additional purchase. Floating lights can also be purchased as an option.
Wi-fi:
Control your hot tub from a smartphone or tablet at any time. Sound system: wirelessly listen to your favourite music, podcasts, or even TV shows.
Trays that float:
snacks, drinks and even your waterproof playing cards can be stored in this holder
A cup holder for your beverages:
Your tub has an attachment for this. Beauty products you can use in the hot tub include spa bombs and crystal baths.
gazebos with hot tubs:
Most of these enclosures can be easily dismantled if you prefer to sit out in the sun on a rainy or windy day.
Five well-liked hot tubs.
At this time, we do not test hot tubs, but some of the most popular hot tub retailers are Jacuzzi, Lay-Z-Spa, Skargards, Intex, and Canadian Spa. From those picks, we've selected a variety of types and styles for you to peruse.
The hot tub Jacuzzi J-325
The cost is £9,000
It is possible to purchase this product from the Jacuzzi website.
A hard-shell vehicle.
Seating: 4 to 5
Overall height, width, and depth (in centimetres) are all measured in centimetres.
There are 23 jets in this Jacuzzi hard-shell hot tub, despite its small size. Both the shell and the cabinet can be customised in terms of colour. However, Jacuzzi claims that its'smart seal' technology helps reduce noise and improve energy efficiency.
Massage pillows, LED lighting, and a neck-massaging waterfall are all included as well. For a more affordable option, Jacuzzi offers the J-235 tub, which seats up to six people.
Hot tub in the Lay-Z-spa Helsinki
The cost: £800.
Argos is the place to buy
Type: Blow-up
Seating Capacity: Seven
To put it another way, the dimensions are: H66, W180xD180cm (180cm diameter)
With 87 air jets and room for seven people, this luxury inflatable hot tub from Lay-Z-spa is one of the best on the market.
With its wood-effect panelling, the Helsinki hot tub is more expensive than the average inflatable.
However, if you want to use it all year round, you'll have to pay. Because of its 'freeze shield technology,' unlike many other inflatable models, this one can be used in extremely cold temperatures.
Aquatherm 190 Skargards
Starting price: £3,790
It is possible to obtain this item from Skarsgards
A wood-fired oven.
There are between five and seven seats available.
This item's dimensions are: H93xW190xD190cm (190cm exterior diameter; 257cm flue height)
Prices start at £3,790 for the basic model, but you can customise it by adding extras like underwater lighting, frost protectors, and an insulated cover through the company's website.
The flue and a few other small parts are included in the delivery, so you can get started right away.
Pure Spa Inflatable Hot Tub by Intex
Cost: £399.
You can get it from B&Q.
Inflatables of this type
Seating capacity is four.
Height 71cm; Diameter of 195cm;
It is claimed by Intex that this inflatable hot tub is'strong enough for people to sit on the spa side". A blower is all that's needed to inflate it in 10 minutes.
A hard water treatment system is also included, with the goal of making the water more gentle on skin, clothing, and the spa equipment itself.
If you're on a tight budget, this inflatable tub is a good option – but remember that you won't be able to use it all year.
Halifax's Plug & Play Spa
a cost of £5,125
B&Q has the item in stock.
It's a solid-shell type
Seats: four
79cm high, 153cm wide, and 211cm deep.
LED lighting, a waterfall, and a built-in aromatherapy canister are included in this mid-priced hard-shell hot tub from Canadian Spa.
It has 22 spa jets and a pressure-adjusting valve. Built-in stereo and five drink holders can be found in the panelled edge and marble-effect cabinet.