Get the most from your fire pit using our top tips on safety, lighting and cleaning
ou've chosen the best outdoor fire pit, set it up in the perfect location, and now it's time to get in your garden and relax. But alongside enjoying the new heater, you'll also need to ensure you can light and clean it quickly, and stay safe while doing so. Our expert guide to using your fire pit covers everything you need to know, including how to get it burning, the useful fire pit gadgets to look out for, how to maintain your fire pit, plus top fire safety tips from the Royal Berkshire Fire and Rescue Service.
How to light a fire pit
Put a few bunches of scrunched up newspaper on the bottom of the pit Add some kindling on top of the newspaper in a pyramid shape to aid ventilation Using a long safety match or a long lighter, light the newspaper and kindling Once the fire has caught, add one or two logs to increase the fire As the fire starts to decrease, add one or two logs to keep it burning If you're lighting a chiminea, you'll need to make sure you have a layer of sand or lava rocks on the bottom before you light the fire. If you've got a gas fire pit, all you'll need to do is switch it on. If the gas has run out, always read the instruction manual to find out how to replace the canister.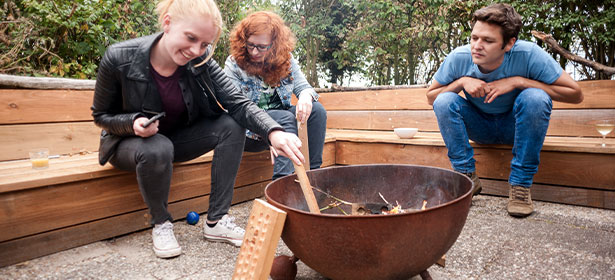 Useful fire pit gadgets
Poker: for stoking the fire
Long-reach grabber: to safely add and move logs in the fire
Long-length fire lighter: to avoid burning your fingers when lighting the fire
Log rack: somewhere to store logs
Log carrier: a large bag with handles used to carry wood to the fire pit
Ash bucket: to use when cleaning your fire pit Fire pit gloves: to keep your hands safe
Fire pit lid: to use as a snuffer, to stop leftover ash/embers from blowing out of the pit and to stop the barrel from getting wet.
Fire pit screen: extra protection from flying embers or sparks
BBQ rack: to cook food over your fire pit
Fire pit roasting oven: this sits on a BBQ rack and can be used to roast meat, potatoes and vegetables
Ash spade: to easily clear ash from the pit
Hanging cooking bowl: a cooking bowl that hangs from a tripod above the fire pit Are you giving your garden a makeover? Why not add a hot tub or pizza oven?
How to clean a fire pit
Cleaning methods all depend on the type of material your fire pit's made from. Here are our step-by-step guides to cleaning steel, copper, cast iron, brick and gas fire pits.
Steel or copper fire pit
Clear all the ash and debris from the inside of the fire pit. You should wait until the day after it's been used to ensure the fire has gone out and the ash has cooled. Use hot, soapy water and a soft cloth to wash down the inside of the pit. Rinse the soap off and then dry the pit completely. Leaving water residue can cause the metal to rust.
Cast iron fire pit
Remove all the ash and debris from the fire pit the day after use. Use hot water and steel wool to clean the interior of the fire pit. Thoroughly dry the pit with a soft cloth to avoid corrosion.
Brick or stone fire pit
Remove all the ash and debris from the fire pit the day after use. Scrub the brick/stone with hot, soapy water and a brush. Hose it down. Leave to dry completely before using.
Gas fire pit
Remove any debris such as leaves from the exterior. Use a cloth and soapy water to wipe down the sides. Dry it off with a soft cloth. How to buy the best garden furniture and best outdoor lights – be as comfortable as possible while enjoying your fire pit.
Fire pit maintenance
Looking after your fire pit will help to lengthen its lifespan. Here are a few ways to keep your fire pit in good working order: Keep your fire pit covered and protected from the elements when not in use. This is especially important for cast iron, steel and copper pits. Excessive rain can cause it to rust. Don't douse the fire with water to put it out – let it extinguish naturally. The quick drop in temperature can cause the pit to crack. Clean out the ash and debris after every use and give it a deep clean every three to six months. Don't use accelerants – the extreme heat can damage the pit Oil your steel fire pit around twice a month Don't burn plastic in the pit. It will melt and stick to the pan.
Fire pit safety
Pick a safe location Make sure your fire pit is well away from sheds, fences, trees and shrubs.
Protect vulnerable users Keep children and pets away from the fire.
Choose approved items Use only approved lighters and only ever on cold coals.
Be prepared Keep a bucket of water, sand, or a garden hose nearby for emergencies.
Stay put Don't leave a lit fire pit unattended.