Is your car due its MOT check? Give your car a better chance of passing the test first time, with our easy tips to getting your car in shape.
If your car is more than three years old, an annual MOT check is a legal requirement to ensure it's roadworthy. The only exemption to this rule was during the coronavirus pandemic – vehicles in Britain due an MOT between 30 March and 31 July 2020 were given a six-month extension, in Northern Ireland this was 12 months.
The maximum fee that a garage is allowed to charge for an MOT is £54.85, but you'll often see them advertised for around £35-£45 to attract and retain business. An MOT may seem like just another expense, but it can help reveal potential problems that could affect the safety of your car further down the line. Plus failure to have a valid MOT makes your car illegal to drive (unless you're on the way to a pre-booked test), and it usually invalidates your insurance. Around 40% of cars submitted for MOT testing end up failing.
To help make sure your car isn't one of them, keep reading to find out how to maximise the chances of your car passing first time. We reveal the quick checks you can do to make sure you're not caught out by a minor fault, plus we update you on the new MOT rules.
MOT test changes in England, Scotland and Wales introduced a new system from 20 May 2018 for categorising faults found with your car. The new MOT test also includes some new checks, plus stricter rules for diesel car emissions. Any defects that the MOT tester finds are now categorised as either 'dangerous', 'major' or 'minor'.
If your car is found to have a 'dangerous' or 'major' fault, it will fail its MOT. If your car has a dangerous fault, you'll be required to fix it before you can drive it any further. There are also now stricter emissions rules for diesel cars with diesel particulate filters (DPFs) installed. DPFs capture and store exhaust soot to reduce emissions from diesel cars.
Your car will get a major fault (and fail its MOT) if the MOT tester can see any smoke coming from the exhaust, or find evidence of tampering with the DPF. Some additional checks for the tester to perform during the new MOT have also been introduced, such as checking whether tyres are underinflated, brake pad warning lights work and brake pads or discs are missing. The MOT certificate is also changing to reflect the new fault system. Plus, some vehicles that are more than 40 years old will no longer require an MOT, provided they haven't been substantially altered.
Before your MOT check: car exterior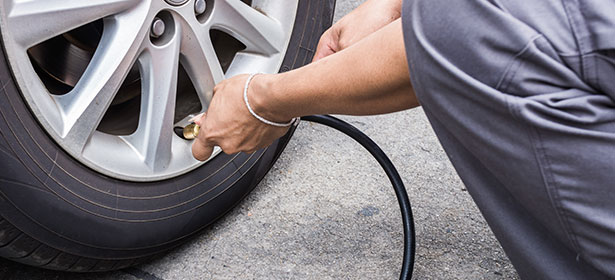 Tyres and wheels
Car tyres must be the right type and size. If you've fitted a space-saver spare tyre onto one of your wheels, replace it with a standard wheel and tyre before the test. Check that all tyres have a tread depth of at least 1.6mm right the way around and across the central three-quarters of the pattern. A quick way to check is to insert a 20p coin into one of the tread grooves.
If the outer edge of the coin is completely obscured, the tread depth is sufficient. Also look for significant lumps or cuts in the sidewall that could render it unfit for purpose. Tyres must not be obviously underinflated, either. Spare tyres aren't checked as part of the MOT test, but those stored externally will need to be fastened securely. Follow our guide for changing car tyres to make sure you fit them securely and safely.
Lights
All of your lights (including headlamps, parking lights, reversing lights, indicators and registration plate bulbs) need to be the correct colour and in good working order for your car to pass the MOT test. Daytime running lights will also be checked on vehicles first used from March 2018, which will be having their first MOT checks in 2021. Clean your lights and then get someone to try them while you walk around the car. If they flicker when tapped lightly with your hand, they probably need tightening into position or replacing altogether. If you find that a bulb has blown, it's a good idea to change it before the MOT test. Read our car headlights guide to find out which bulbs are best.
Wipers and windscreen
The wipers and washers should work well enough to allow you a clear view of the road. Wipers that smear could potentially be worn out, so replace them before the MOT, and check your headlight washers if you have them. Make sure you top up the washer bottle (some garages will charge for this) and use a pin to unblock the jets if necessary. It's also important to make sure your windscreen is in good condition before the MOT test, particularly the area that is swept by the wipers. Remove any stickers that could obstruct your view and look out for chips or cracks longer than 1cm (about the size of a 5p coin).
Registration plates
Make sure your registration plates are in good condition and are tightly fastened to the car. All the letters and numbers should be easy to read from 20 metres away. Bear in mind that the police may view the use of unusual fonts as an attempt to obstruct the law. If you're unsure of whether your number plate meets the legal requirements, visit the DVLA website before going for your MOT test.
Doors
All doors must open and close freely for your car to pass its MOT test. Once shut, they should remain firmly closed. Front doors should be able to be opened from inside and outside the car.
Vehicle structure
Walk around your car and look at its general condition. The body should be free from excessive corrosion or damage – particularly anything that's likely to affect the braking or steering. There shouldn't be any sharp edges exposed that could be a danger to other road users. If there are, your car could fail its MOT test.
Under the bonnet
Pop up the bonnet and make sure the brake fluid reservoir and oil are topped up. Sufficient levels of both oil and fuel are required for the garage to conduct an emissions test. Your car may be turned away if not properly topped-up, or if the brake fluid is contaminated.   The test now also checks for fluid leaks that pose an environmental risk.
Before your MOT check: car interior
Warning lights
MOT testers look for whether certain dashboard warning lights are illuminated or inoperative. These include the power-steering indicator and brake-fluid warning lamps, so check that your lights all come on then go off when you turn the ignition. Your car must also have a fully functional speedometer to pass the MOT.
Seats
Before the MOT test, take a look at the front seats to make sure they're securely anchored and don't move around when they're not supposed to. Front and rear seatbacks should be able to lock into the upright position
Seatbelts
Frayed or damaged seatbelts are a definite no-no. Before you head to the test centre, check that they work properly and make sure they are firmly fixed to the seats or the structure of the car itself, and that they click into place securely and release correctly.
Horn
Give your horn a quick toot to make sure it's working. The horn should be audible and easily accessible from the driving position.
Mirrors
Check your mirrors. A car must have an internal rear-view mirror and at least one driver's side mirror to pass the MOT. They should be positioned to be clearly visible from the driver's seat. See how fault-prone a car is before you buy it. Enter the model into our most reliable cars checker to find out what parts are most likely to break down.
Mechanical checks
Mechanical checks are the hardest to do yourself, but there are problems you can identify early on – giving you the chance to shop around for the best repair prices before the MOT test.
Suspension
Suspension is a difficult component to check yourself, but you can do a quick test by applying your weight to each corner of the car and then releasing. If the suspension is OK, any body movements should settle down quickly. You may also be able to hear suspension problems in the form of creaks or knocks when you drive or manoeuvre the car, particularly over an obstacle such as a speed bump, or as you drive up a kerb or onto a driveway.
Exhaust system
There shouldn't be any parts of the exhaust or mountings missing, so ensure nothing's hanging loose. Be on the lookout for any major leaks and check that the silencer is working. To make sure everything is in order before the MOT test, start up the car and listen for excessive or unusual noise, which could be a sign of a 'blowing' exhaust (small holes caused by corrosion). Mechanical checks are the hardest to do yourself, but there are problems you can identify early on.
Exhaust emissions
Your car must meet the legal requirements for exhaust emissions to pass its MOT test. These depend on the age of your car and the type of fuel you use. You can't check this yourself, but if there's lots of smoke of any colour coming from the tailpipe, it's more likely there's a fault. You will also fail with a diesel car that has a diesel particulate filter (DPF) that has been tampered with. Our research has found that many cars produce more harmful NOx than the legal limit. To see the worst offenders, go to our car emissions guide.
Fuel system
Check that the fuel tank and all visible components, such as hoses and pipes, are secure and free of leaks. The fuel cap should fasten tightly and be undamaged – a split seal could be enough to make your car fail its MOT. MOT testers need to be able to open the fuel cap, so make sure you provide the key if there is one.
Brakes
Check that the footbrake and handbrake function properly. There shouldn't be any visible leaks from the brake pipes. Wheels aren't removed during the test, and the tester will only look at what is visible and easily accessible. You can also quickly examine the brake discs for any signs of warping or scoring. If you have ABS, make sure that the warning light works.
Does my car need an MOT?
What happens if my car fails the MOT test?
If your car has failed and needs work, in most cases you're allowed one free MOT retest as long as your car doesn't leave the MOT test centre. In that case, you have to ask the MOT garage to make the repair. If your car is found to have a fault categorised as 'dangerous', you must get this fixed at the garage where you took the MOT test. You're not allowed to drive the car away until its fixed, even to a different garage, unless you tow it there. You can drive to a different garage for a 'major' fault, however, provided your existing MOT test certificate is still in date. For a select few failure points, such as emissions or headlight aim, you're allowed to take your car elsewhere to be repaired. You will still be entitled to a free partial MOT test, provided that you return to the original test centre before the end of the next working day. If you fail to return in time, you'll have to pay the full amount.
I think my MOT test result is wrong – what should I do?
If you don't trust the garage you've chosen, you're free to take your car to a different MOT test centre for a second MOT test. But you'll have to pay the full fee. Alternatively, you can appeal the test result. To do this you'll need to fill in form VT17, which is available from any MOT test centre, and contact the Driver and Vehicle Standards Agency (DVSA, formerly called VOSA) within 14 working days of the test. The DVSA will then arrange to check your car within five days. You'll have to pay another full MOT test fee, but this can be refunded if your appeal is successful. If your car has passed the MOT test, but you think it should have failed, let the DVSA know as soon as possible. It will carry out a free check for you if you contact it within a certain time (three months for corrosion, 28 days for other problems).
How are MOT faults categorised?
Any defects found by the MOT tester during the MOT are now categorised as 'dangerous', 'major' or 'minor', depending on how serious the problem is. Any dangerous and major faults will mean your vehicle fails its MOT. For dangerous faults, you must not drive the car until it is repaired, and major faults must be repaired immediately. The MOT tester can also give 'advisory' notes for things you should watch with your car that may become more serious in the future.
Do electric and hybrid cards need MOTs?
Electric and hybrid cars follow the same rules as petrol and diesel cars when it comes to MOTs. That means you'll need to get one annually as soon as your car turns three. The procedure will also be the same, so all of the above tips and tests will apply. The only difference comes with electric cars. Since they have zero emissions, the garage won't bother with an emissions test.