From science, transport and war museums to art galleries, more than 40 attractions nationwide were rated by over 4,000 visitors
With coronavirus restrictions loosening this month, it's an ideal time to explore some of the UK's best artistic and cultural attractions. We asked 4,283 Which? members to rate galleries and museums – and it wasn't the most famous that claimed the top spots.  Art galleries such as Tate Britain, didn't make it into the top five, nor did London's famous Science Museum. Instead, it was those with interesting and engaging brick-by-brick reconstructions that were rated most highly. The best museums were spread far and wide, so there are plenty of well-rated places to explore all over the country.
Best museums in London
 Royal Air Force Museum London 87% – showcasing over 100 years of aviation history and the RAF, this museum is home to Battle of Britain fighter aircrafts
National Gallery 85% – a free to enter art gallery in Trafalgar Square that contains over 2,300 paintings – a huge array of Western European Art
National Portrait Gallery 85% – home to one of the largest portrait collections in the world and through this, promotes those who have made and are making British history
V&A South Kensington 84% – a museum of decorative art, design and sculpture, housing  a permanent collection of over 2.27 million objects
Imperial War Museum 83% –  a museum that takes a deep dive into wars over time from WW1 to the present day, giving a voice to ordinary people who lived through the conflict
Natural History Museum 83% –  home to natural and historic exhibits including dinosaur fossils, a meteorite and moon rock
Top five UK museums
1 St Fagans National Museum of History, Cardiff – 94%
The story of Wales is vividly brought to life through domestic architecture in St Fagans open-air museum.
A total of 40 buildings from different historical periods have been reconstructed outside on the leafy 100-acre site, satisfyingly recreating how Welsh people have lived throughout history, and providing equally appealing opportunities for the nosey and the curious.
It's no wonder it scored five out of five in the engagement category.
Highlights include a typical general store from South Wales packed to the rafters with original packaging on mahogany shelving; an aluminium prefab in all its cleverly designed glory; a working forge and a clog-maker's house. Several buildings are occupied by craftspeople, who demonstrate skills including blacksmithing, pottery and weaving. And the best bit? It's completely free.
2. Beamish: The Living Museum of the North, County Durham – 91%
This 300-acre open-air museum of painstakingly restored buildings, 10 miles south of Newcastle, is refreshingly down to earth. Its six sections of brick-by-brick reconstructions range from a 1900s town with bakery, school and Co-op, to an 1820s manor house and quilter's cottage – and reveal how people in the North East really lived.
The sections are linked by restored trams and are populated by costumed farmers and shopkeepers eager to take you back in time. At £19.50 a ticket, it's not cheap, but this museum is clearly worth every penny, since it scored the full five stars for value for money.
3. National Railway Museum, York – 91%
The huge sheds of the world's biggest railway museum rekindle the excitement and romance of train travel.
What's more, it's free to visit.  Explore 100 locomotives, including Mallard (the fastest steam engine), a working replica of George Stephenson's Rocket, the only Shinkansen bullet train outside Japan, and the silk-lined carriages of Royal trains.
You can explore at a leisurely pace too, this museum was awarded five out of five stars for lack of crowds, so you won't feel like you're on a conveyor belt.
A platform café even enables you to create your own Brief Encounter moment, or alternatively you can enjoy a luxurious afternoon tea in a beautifully restored train carriage.
4. Royal Air Force (RAF) Museum Cosford, Shropshire – 91%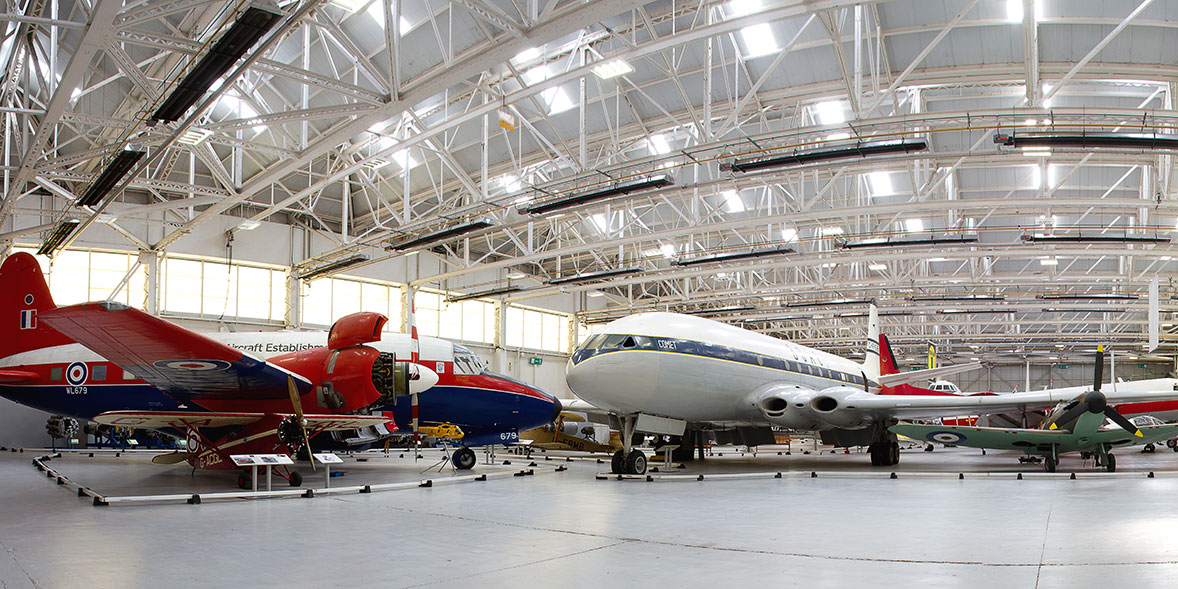 Home to a huge aviation collection, this museum displays historic military aircraft including the world's oldest Spitfire.  Britain's V Bombers from the Cold War era including the Vulcan, Victor and Valiant are also proudly exhibited, as well as a Dornier Do 17, a German bomber recently recovered from the bottom of the English Channel.
If you prefer a story to go with your exhibits, you're in luck. With interactive displays, a flight simulator that demonstrates the bravery of pilots during test flights and personal stories of RAF pilots, there's plenty to keep your attention.
The varied displays and interactivity is clearly a big hit with visitors, as it gained five out of five stars for engagement in our survey.
5. National Museum of Scotland, Edinburgh – 90%
Two Edinburgh museums merged in 2006: the modern Museum of Scotland and the Royal Scottish Museum, with focus on both diverse world cultures and the history of Scotland. From scientific breakthroughs to fashion across the centuries, there are plenty of stories to discover inside, and it's all free.
The older building's central hall is Victorian architecture writ large in cast-iron pillars and a glazed roof. It houses the Window on the World, a single installation of 800 objects from different cultures, which rises dizzily through four storeys.
Other highlights include a stuffed Dolly the Sheep and the 12th-century Lewis chessmen, carved from walrus ivory. Its array of exhibits and presentation landed it five out of five for engagement, while it scored a highly respectable four out of five for information provided.